SXSW Review: Hey Bartender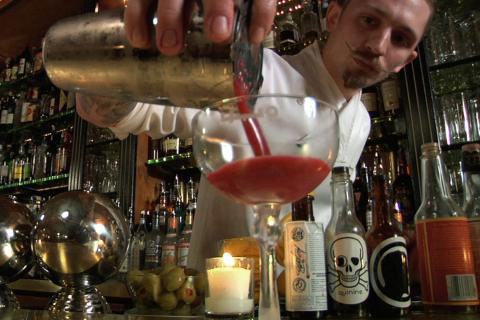 "The culture of drink endures because it offers so many rewards ... above all the elusive promise of friendship and love" -- Pete Hamill, A Drinking Life: A Memoir
The documentary Hey Bartender opens with this fitting introduction into the world of cocktails. The story introduces us to several characters in this lively and engaging film from director Douglas Tirola (All In: The Poker Movie). We are introduced first to Dunville's owner Steve Carpentieri, who is struggling to keep his small business alive in Westport, Connecticut. Cheap beer flows at this hole-in-the-wall where everyone does know your name, but fancy cocktails don't cross the bar here. Carpentieri ponders whether to throw in the towel after almost 20 years in the business.
On the other end of the spectrum is Steve Schneider, a young man trying to advance in the ranks at Employees Only (EO), one of the most prestigious bars in New York City. It can take years to succeed as an EO principal bartender -- starting as a stocker and then serving two years as an apprentice before consideration as a principal. Schneider is proud of his hard-earned apprentice jacket, perhaps a little too much after receiving well deserved press in the print media.
Woven into the stories of these two very different men in the same industry is the history of the cocktail, from its roots before Prohibition to today's cocktail revolution. Insightful commentary is featured from "King of Cocktail" Dale Degroff, Dry Manhattan author Michael Lerner, as well as brand ambassadors and bartenders from several prestigious Manhattan bars. As one interviewee observes, Prohibition shut down not only the creativity but the reputations of bartenders. Today, cocktail bartenders are becoming more revered, recognized as mixologists who carefully consider the ingredients and preparation for each cocktail.
The editing of Hey Bartender successfully builds its engaging stories that flow as easily as the booze, culminating with the Tales of the Cocktail event and related Spirited Awards in New Orleans. There we see Carpentieri's desire to embrace the culture as he meets the big names and winners in today's cocktail culture.
The cinematography is visually stunning with intimately close shots that'll make you crave a freshly hand-crafted cocktail, and captures the intimate feel of these community cornerstones. The music and score is lively as well throughout, from old crooner tunes to modern rock exemplifying the energy of the bars.
A minor criticism is that the film comes across a bit skewed towards the "rock stars" of the cocktail culture -- EO bar team members even sport matching "EO" tattoos -- over the Dunville's' style of local bars. I observed that Dunville's taps include regional craft beer as well as classic imports -- another sector of the industry that is growing as well.
However, the intimate stories behind the EO team, including Serbian civil war refugee Dushan Zaric and ex-Marine Schneider's self-described "rebirth" from a violent attack outside a bar on the day before he was to be deployed, bring a more human element to their perceived sophistication. The EO subplot of Hey Bartender is most rounded out with insightful comments from owner Zaric, demonstrating his leadership and the importance of teamwork behind the bar that contributes to EO's success.
I highly recommend watching Hey Bartender, especially if you can do so with a specialty cocktail in hand. I expect Hey Bartender to be the centerpiece of upcoming film-and-cocktail event at those Alamo Drafthouse locations that feature liquor.
Hey Bartender screens at SXSW again on Monday, March 11 at 4:15 pm at Alamo Drafthouse Slaughter and Thursday, March 14 at 9:30 pm at Alamo Ritz.