'The XXXX Saga' Production Diary: Day Zero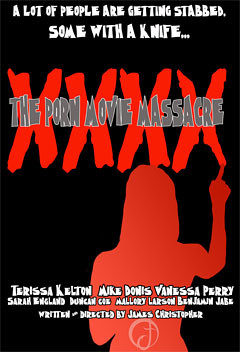 Austin filmmaker James Christopher is directing Twitchy Dolphin Flix's new mockumentary-style features The XXXX Saga: Rise of the Beaver Slayer and The Porn Movie Massacre (no, they're not pornos). Check Slackerwood for his updates as the production continues.
Tomorrow, I'll sit at the director's chair for my ninth and tenth features for Twitchy Dolphin (Littlefield was distributed by Twitchy, but shot before it existed). I'm trying to find some calm before the storm that will inevitably set in on my life. Shooting a movie is tough personally and on my wife, who must live with me being very distracted.
So what is The XXXX Saga? It's two movies at once ... both mockumentaries (think Spinal Tap and Best in Show) follow an adult film company. Both films will be shot at the same time, the second of which (The Porn Movie Massacre) adds the element of a slasher movie to the mix. The pre-production for these projects has been tough. A huge cast begets its own problems, the logistics of two very different setups has been tough to balance, and trying to juggle other commitments has left me feeling like I'm two steps behind. Thank God for the production staff!
So why keep doing it? We've done eight feature films on budgets that don't add up to one budget of some of the films we compete against. Why go through the headache? All I can say is, its worth it. It's worth it to create something totally unique that isn't tainted or watered down by a studio process. It's worth it to put something out there that is wholly yours. And the experience of going to battle alongside like-minded individuals is completely worth it. For as much as the lack of money really pains us at times (and it does) at least we're out there, doing our own thing. That freedom is priceless.
So, the question begs ... why this film? Why a film about porn stars? Again, it goes back to having a question to answer -- this one dealing with freedom of speech, and much like we did with Abram's Hand, we want to be as upfront as we could when asking this question. And it's been an interesting experiment. Our Indiegogo fundraiser has been a huge success -- we're past our goal with 17 days left. And we've had a lot of people wondering if we're making porn (we're not.) We've had actors leave the project due to familial pressure. But the ones who have stayed with us have reveled in the chance to do the film because they believe in the script and what it says about freedom, expression and society.
So these will be our ninth and tenth features. I'm sure when Twitchy Dolphin started, people doubted if we would finish even one. Then it was like, can they really do more? After the third one, people wondered if anyone would see any. Since then, we've been playing fests and shooting more and more projects. We've been growing, as CEO Nathan Bybee says, "At a pace that makes sense."
The ninth and tenth. And I feel in my bones these movies have the chance to be something epic. Thank you to all the people who have continued to support us. Thank you to all the people who have believed in us this whole time. We couldn't be "us" without you. And there is still time to donate. The perks are awesome. And they count double. Tomorrow it begins. Keep checking back! I'll have updates after every weekend of shooting. And you know those pics will be interesting ...