Review: Jack the Giant Slayer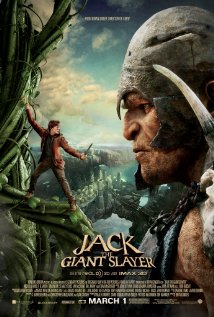 Nicholas Hoult, still on screens with the lukewarm Warm Bodies, returns in this week's slightly warmer Jack the Giant Slayer, directed by Bryan Singer. Written by Darren Lemke (Shrek Forever After), Christopher McQuarrie (The Usual Suspects, which Singer also directed) and Dan Studney, the movie is an enjoyable but largely forgettable reimagining of "Jack and the Beanstalk."
I don't want to appear too negative, as I did enjoy most of the film's 114-minute run time, but nothing here was as impressive as what ABC has already given us in the TV series Once Upon a Time. Hoult does justice to a role that is perhaps not worthy of his talents, joined by Ewan McGregor, Stanley Tucci and Ian McShane all playing to their individual strengths. (I confess it was difficult not to imagine McShane loosing a storm of profanity once or twice, but this is a family film.) The effects are well executed though again unmemorable, and Singer is no slouch at directing, so my problem lies squarely with the story.
In a time when, with few exceptions, strong female characters are disappearing from Hollywood, this reimagining strikes a particularly anti-feminist tone. Jack the Giant Slayer features a princess, Isabelle (Eleanor Tomlinson) who craves adventure, bored as she is with her palace surroundings. Normally escorted by guards wherever she goes, Isabelle sneaks away during the night and immediately finds her way into danger, requiring the help of her father's best men and one farm boy to rescue her. At no point during the subsequent "adventure" does she do any adventuring or even attempt to effect her escape.
There's also the matter of an evil advisor to the king (Stanley Tucci), whom Isabell will be forced to marry against her wishes. The writers go full-Disney, making sure the princess' mother is dead and even rewriting the tale so Jack's mother is replaced by a grumpy uncle (who last appears as Jack and Company begin to climb the beanstalk, and never resurfaces).
Although Jack the Giant Slayer is presented in 3D, that's of little importance, as it isn't used to any great effect -- unfortunately for a film about giants, where it could have created an exagerrated perspective to highlight the difference in size. The best things about the film are Hoult and Ewan McGregor, though the vibe between them mimics the relationship between McGregor and Hayden Christensen's characters in Star Wars Episode II.
Jack the Giant Slayer is a PG-13 movie with a depth of story more appropriate to an under-13 audience. It includes at least three too many fart jokes and ends with a puzzling and inexplicable shot, which is the worst moment in the film. It's good for an escape only if you have already seen better films in current release, like Beautiful Creatures.