AFS Film Club Screens Student Films at Winter Festival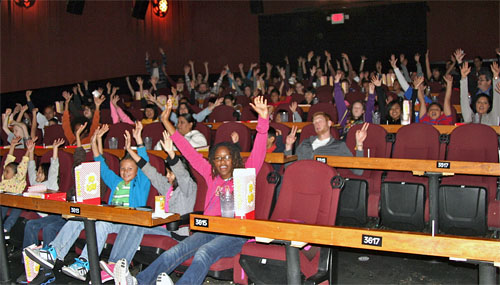 By Mariana Mora
School is all about learning, and sometimes it can get tiring and boring. In afterschool programs like ACE (Afterschool Centers on Education) though, it's about having fun while learning new and exciting things. AFS Film Club is an ACE program where we at the Austin Film Society teach children from 17 different elementary, middle and high schools some basic skills in moviemaking, from script to screen.

The AFS Film Club Winter Festival 2013 took place in February at the Alamo Drafthouse Village. AFS screened dozens of student films made in ACE Film Club during the fall semester of 2012. Students from at least 10 of the 17 schools made it to this amazing event where we screened their movies.

All the kids enjoyed watching the movies they created on the big screen while also enjoying some awesome Alamo Drafthouse popcorn. Half of the movies were about ghosts and zombies. It's not surprising, since most of the movies were written and shot around October 2012. Other projects included neat stop-motion animations made from drawings, Legos, or clay; short informative documentaries; and entertaining narratives.

The Film Club Winter Festival wasn't just about letting the children see their films on the big screen, but gave them the opportunity to interact. Most of the time, the students in Film Club only know the kids from their respective schools. At the Film Club Winter Festival, they were able to meet other kids of all ages who shared the common interest of film.

After the screening, I noticed some of the kids telling each other how cool they thought their movies were, even though they had never met one another. Seeing these kids bond passionately over movies was very inspiring. They took away new friendships.

The Film Club Winter Festival was about celebrating the end of one semester and the beginning of another, a celebration for young filmmakers and the hard work they have accomplished. I enjoyed watching these movies and the bonds they created, and I'm looking forward to the next Film Club Festival in the spring.
Mariana Mora is the Community Education Apprentice at the Austin Film Society.