Austin at SXSW 2013: Heather Kafka Times Five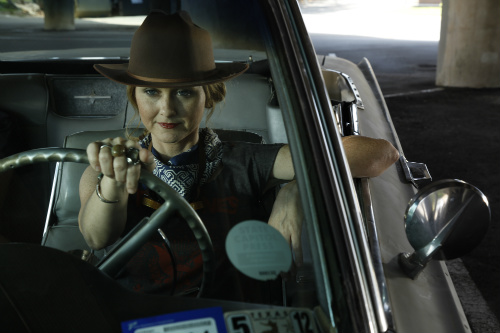 Austin-based actress Heather Kafka shows up in features Pit Stop, The Bounceback, Loves Her Gun, When Angels Sing, and short Black Metal which are all screening at SXSW next month. Let's just say that if you see a film with local ties during the festival, there's about a 75% chance that Kafka will be in it. You might have seen her previously in locally made movies like Lovers of Hate, Saturday Morning Massacre, Slacker 2011 (pictured above) ... and she's the woman trying to buy from the Carl's Jr. kiosk in Idiocracy.
Kafka took some time to talk to us (via email) about working in the friendly Austin film community and taking on roles that her grandma shouldn't see.
Slackerwood: You appear in a number of the films showing at SXSW this year. How did you become involved with these film projects?
Heather Kafka: Sometimes I'm lucky. When I came back home to Austin in 2007, it wasn't long before I was doing Lovers of Hate with Bryan Poyser. I simultaneously began that tempestuous relationship with Facebook and suddenly all these film people were sending friend requests. Then we were in the same room singing karaoke, at the same parties, meeting at SXSW or screenings. I met Bob Ray and Geoff Marslett, Bob Byington and the Zellners. Clay Liford moved from Dallas to Austin. I met Eric Steele, Frank Mosley, James Johnston; a whole Fort Worth contingent.
Arts and Labor opened up and all these filmmakers rented office spaces together: Jonny Mars, Kat Candler, Yen Tan, Jason Wehling, Kelly Williams. Casting director John Williams' daughter and my daughter just so happen to go to school together. Most of these people have been friends first who then asked if I would do their film. And that seemed to just repeat itself over and over last year. These specific projects? Bryan just asked (The Bounceback), Yen just asked (Pit Stop), Geoff Marslett just asked (Loves Her Gun), and Black Metal, I went through auditions.
Is there a character in one of these films that you particularly enjoyed playing?
Kafka: Loves Her Gun (SXSW screening info) was a blast. I'm your white trash Miss Messy from next door. I do white trash a lot but there was something a bit bigger and more playful in this woman's energy. She's trying so hard to cover her blemishes while making sure you know, everything's completely under control. Most of my women under pressure are so dark and heavy. And this gets heavy, don't get me wrong. But learning fight choreography and playing drunk; those kind of things are fun for actors.
What was your filming schedule like while working on these? Was there any overlap?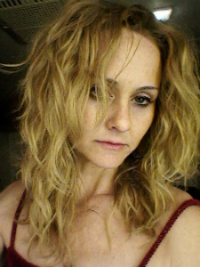 Kafka: There was really no overlap but they were close enough together to make me feel a bit schizophrenic. In Pit Stop (SXSW screening info), I'm a conservative from a small town whose brother is in a coma. In Loves Her Gun: abused white trash neighbor.
In The Bounceback (SXSW screening info), I'm a smart-ass Alamo Drafthouse employee running the Air Sex competition and in Black Metal (SXSW screening info) I'm married to the lead singer in a metal band, so naturally I immersed myself in lots of metal. And those were just a few of the projects I was involved in last year. Much of it was co-starring or cameo; just brief beats in the stories, so it was often very quick, drop in and finish, then get out. It was a chaotic year.
As an actress living in Austin, what are your thoughts on making films in the Lone Star State?
Kafka: Yes, please. Make films in the Lone Star State. I'm around. Let's shoot something.
Are there any other recent films you've worked on that you want to tell us about?
Kafka: I did a day on the new Terrence Malick. If I survive the cut, I play a woman at a party who has cancer and has a brief but intimate encounter with Michael Fassbender and Ryan Gosling.
A film I'm most excited about is David Gordon Green's Joe starring Nicholas Cage. I play Lacy, a small town prostitute who lives in the whorehouse Joe frequents. We'll just say at some point, Joe comes for my services ... and then I found myself shooting a scene with Nicolas Cage that I could never have predicted for myself. It should be incredibly dark and unpredictable ... and yet another film I'm in that is NOT suitable for grandma (NSFG). My poor grandma.
[Still at top from Slacker 2011, photo on right from set of Joe, both courtesy of Heather Kafka]