AFS Essential Cinema Returns to the Middle East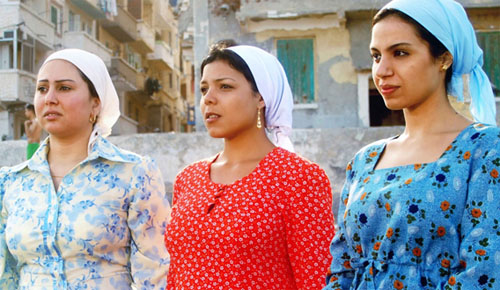 The Middle East continues to be a hotbed of socio-political upheaval, sometimes with cautious hope, more often with sorrow and loss. Nonetheless many of the countries of the region continue to provide a fertile ground for the imagination of filmmakers. In keeping with what has become an Austin Film Society programming tradition, we present our seventh consecutive year of the Essential Cinema series, "Children of Abraham/Ibrahim: Films of the Middle East and Beyond" (Feb 19 – April 9, 2013).
We begin tomorrow night with one of the most important films to come out of Iran, one made by an Iranian filmmaker forbidden to write screenplays, direct movies, discuss cinema publically or travel to other countries for film festivals for a period of 20 years. This Is Not a Film (2011) is Jafar Panahi's answer (and shrill raspberry) to his repressive government's decree.
With the help of his friend and technical assistant Mojtaba Mirtahmasb, Panahi shares a day in his life with us as he talks about the film he was planning to make before his arrest and harsh sentence. He transforms one room of his large apartment into the bedroom of a young woman forced to remain captive in her own home while her parents are away. In a crucial moment in his acting out of the script, Panahi suddenly stops as he finds this exercise frustrating and unfulfilling. Never have we so clearly seen such a creative mind gagged and bound by such an idiotic law charging an artist with demeaning the image of Iran and Islam. Perhaps the point of making this "non-film" is that the attempt to silence his artistry is what demeans the image of the country and the religion. This Is Not a Film is an absolute must-see for all people disturbed by censorship and inspired by unbridled creativity.
For My Father (Dror Zahavi, 2008) is an Israeli film, previously seen at the Austin Jewish Film Festival, but worthy of bringing back to Austin. Shredi Jabarin plays Tarek, a young Palestinian man, strapped with explosives and intent on killing as many Israelis as possible for the defense of his father. But love is sometimes stronger than hatred or fear, a point proven by Keren, a young Israeli woman on the outs with her family and her more Orthodox community. These two outsiders cross paths and spend a beautiful night on a beach. Only problem is that Tarek's explosives can be remotely detonated, so he must make a heart-rending decision.
Scheherazade, Tell Me a Story (Yousry Nasrallah, 2009) (pictured at top) is the aptly titled Egyptian feminist film, which examines the public and private life of Hebba Younis, a successful TV host with her own talk show. Realizing she is tired of the usual chatter on such shows, she starts asking her guests about their lives as women, especially about their treatment at the hands of husbands, fathers, brothers and other men. Hebba's husband Karim finds his position with the government newspaper suddenly endangered as the government takes note of the level of critical discourse on Hebba's show, none of which is making Egyptian men or authorities look very good.
Some long-time AFS members may remember the delightful film The Band's Visit (2007), from a previous version of our Middle East series. The director, Eran Kolirin, had earlier made a powerful little family drama, The Long Journey (2004), which depicted one day and night in the lives of a young boy and his extended family. All of the adults are so preoccupied with their own desires and difficulties that no one sees how lonely the boy is. We are very fortunate that one of the actors of The Long Journey, Alon Pdut, now lives in Austin and will be available for a Q&A session after the screening. His most recent film, Out in the Dark, will be shown during the Austin Jewish Film Festival later in April.
We have another special treat at the end of March when writer/director Susan Youssef (University of Texas RTF graduate and Texas Filmmakers' Production Fund recipient) will be here to present Habibi Rasak Kharban, her feature film debut.
Predating Romeo and Juliet by several centuries, the Sufi parable Majnun Layla tells the story of a young poet driven mad by his forbidden love for his childhood friend and sweetheart, Layla. In Youssef's modernization of the tale, the young man (Qays) and young woman are from two different classes within Palestinian society. Embarrassing to her family are his love poems to Layla spray-painted all over the neighborhood walls, and Layla is under strict orders not to see her lover.
We will end the series with two recent films from Turkey, a country that's quickly gaining worldwide attention for a variety of beautiful films with profound examinations of the human condition. Toll Booth, the feature debut film by Tolga Karaçelik, examines the Thurberesque imagination of a successful toll booth operator who has begun to conduct long conversations with himself, to the distress of hurried customers. As punishment, Kenan is moved to an isolated toll booth, where his creative storytelling ranges over greater time and place.
Conquest 1453 will take us into a different kind of imagination, one which wishes to conquer long-time enemies and wrest land and riches from them. Nineteen-year-old Fatih Sultan Mehmet has just ascended to the throne of the Ottoman Empire and becomes obsessed with realizing one of his father's frustrated dreams -- conquering Constantinople, the last outpost of the Roman/Byzantine Empire and the gateway to Christian Europe. This is a sprawling, expensive Turkish film reminiscent of Hollywood's widescreen epics of the 1950s.
All films will be showing on Tuesday nights at 7 pm at the Alamo Drafthouse Village (2700 W. Anderson Lane). For tickets and more information, visit the Austin Film Society Essential Cinema webpage.
Chale Nafus is the Director of Programming at the Austin Film Society.