Movies This Week: February 8-14, 2013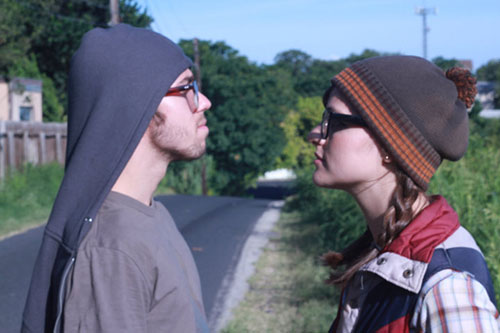 Local filmmaker Ronald Short premiered his comedy Billi & Theodore (seen at top), at the Indianapolis International Film Festival in July 2012, and finally makes its Austin debut Saturday at 10:45 am at Alamo Drafthouse Slaughter. This buddy road-trip film features Jordan McRae and Travis Emery as best friends picking up the pieces as they endure a car-jacking, parking lot brawls, and angry exes. McRae will be in attendance at this special engagement.
Most folks know the ND Austin venue at 501 Studios as a music venue, but art and film offerings are also taking place throughout the month. On Tuesday at 7 pm, The Puro Chingon Collective presents a free screening of Alfonso Cuaron's Mexican road-trip tale Y Tu Mama Tambien. Be sure to check out ND Austin calendar for more film-related events including screenings with live scores, and note that the North Door Pizza kitchen opens for calendared events.
As part of the monthly series "A Decade of Comedy in Latin American Cinema," Cine Las Americas presents a free screening of the comedy O Cheiro Do Ralo (Drained) on Wednesday at 8 pm at the Emma S. Barrientos Mexican American Cultural Center (MACC). Pawnshop owner Lourenço (Selton Mello) manipulates his desperate clients for his own amusement. When he meets an attractive waitress (Paula Braun) at his local diner, he becomes obsessed with her "perfect well-shaped buttocks," much to his demise.
This week's Austin Film Society Essential Cinema offering is 2046. Written and directed by Wong Kar-wai, this sequel to In the Mood for Love portrays journalist/writer and womanizer Chow Mo Wan (Tony Leung Chiu-wai) as he pursues a string of affairs to dispel the memory of one particular lover. In his writing, Chow imagines 2046 "as a time and place where one goes to forget but also from which no one ever returns." 2046 screens Tuesday at 7 pm, at Alamo Village.
AFS Doc Night this month features Koch, a look at the life of three-time NYC mayor Ed Koch, who passed away last week. Koch screens Wednesday at 7 pm at Alamo Village. Elizabeth says it "pulls no punches" -- look for her preview of the documentary early next week.
Movies We've Seen
Chasing Ice -- Through the use of time-lapse photography, National Geographic photojournalist James Balog captures a multi-year record of the changes to glaciers in the Arctic and perhaps the impact of climate change. Mike saw this documentary at SXSW last year and stated in his review, "This photographic work elevates an inconvenient truth to a terrifying fact." (Arbor)
Identity Thief -- Jason Bateman stars as Sandy Patterson, a businessman who confronts a con artist portrayed by Melissa McCarthy, who has been living large on Sandy's tab. Mike says, "Though it delivers plenty of insanity, the laughs grow thinner as outrageous comedy gives way to touchy-feely tugs on the heartstrings that conclude with an ending straight out of an ABC Afterschool Special." Look for his review this weekend. (wide)
Other Movies Opening in Austin
Side Effects -- Steven Soderbergh directed this drama about a successful New York couple, Martin and Emily Taylor, whose lives takes a tragic turn after Martin is released from prison for insider trading and Emily deals with the anxiety by taking a new drug with unexpected side effects. Jude Law co-stars as the doctor who must deal with the aftermath of Emily's behavior as well. (wide)