William Shatner at the Paramount: He's Real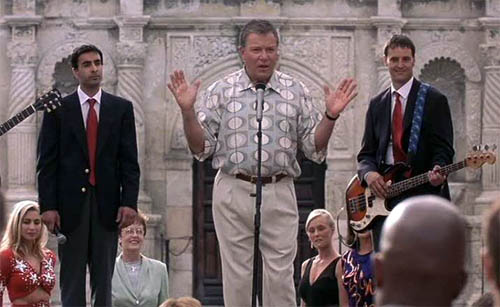 By Barbara Cigarroa
It was a packed house at the Paramount Theatre. Sitting in the uppermost row of the balcony, I looked down and watched as hundreds of people took their seats below me, waiting for the Captain himself, William Shatner, to appear on stage and take them for a ride. Minutes later, the lights dimmed and there he was doing just that, a rolling chair with him as his sole prop for life -- toilet, ship, bus, table, and, coffin. From where I sat, the 81-year-old actor looked tiny, but as the words rolled out of him and as his gestures became grander and grander, the distance between us disappeared and I was right there with him. The title of the show suggested it and Bad Billy delivered: he transported me right into his world, "Shatner's World."
I went into the Paramount Theatre that night expecting to be entertained by an entertainment icon; I came out of there having experienced, yes, a hilarious, but also, a heartfelt look back at this man's thrilling, legendary and sometimes lonely career as an actor.
Shatner began his professional trajectory in a Shakespearean theatre ensemble – no, not as the lead, but as the lead's understudy. Even though he probably would not be but an extra on stage, he took it upon himself to study every syllable and inflection of that other William's iambic pentameter, memorizing and rehearsing those 16th century lines in the one place he ever felt truly confortable: the toilet.
Well, what he mastered in the bathroom stall paid off. One night he was called upon to fill in as Hamlet, and to his own surprise, and to the surprise of his fellow actors, he was received with huge applause, gaining him a following that soon landed him roles in New York theatre, LA film, and eventually a TV series that was soon to become a cult phenomenon: Star Trek.
Shatner did not spend too much time talking about what is was like to work on the popular show; rather, he spent the time talking about what it was like to end his stint on it. He recalls being devastated when they told him his character would be killed off in the film Star Trek Generations. But like all things, Shatner did not dwell on this. He decided to approach this "death" like he approached his life, with wonder and excitement.
This wonder and excitement probably faded slightly when he found himself without work, living in a tiny cabin at some point in his career. But it came back when one day a young boy knocked on his door and asked if he was in Captain Kirk's ship. Yes, Shatner answered, giving the kid a tour of the place – his stoves became control panels and his showers, places to beam into.
Somewhere out there, Shatner predicted, was a grown man still convinced that he traveled aboard the USS Enterprise. Even after the death of Captain Kirk, Shatner told us, the character never left him, and if he went his whole career remembered for that sole role, it would be enough for him. Well, Shatner, it does not seem to be enough for everyone else.
We have now come to know the actor not only for Kirk, but for Denny Krane, Rescue 911, Priceline, and a hysterical musical career launched by hit maker Ben Folds, who makes fun of actors who think they can sing, basically making fun of Shatner himself, who just talks through melody.
Shatner ended the show that night with one of the tracks from his CD titled Has Been. The song? "I'm Real." The obvious name and the lyrics of the track emphasize a theme that was prominent the whole night at the Paramount Theatre. The world thinks of William Shatner as this over the top caricature of a man; but, behind the Captain and the funny-man, is a person who, with three kids in the back of an RV, screamed at the sight of a rat; who, with no where else to go one week, drove a rabbi across the US with the goal of getting him to temple before sundown on Saturday; who, with age not slowing, recalls his deceased father and how the fabric maker taught him how to fold a coat, a simple task, he says, that he holds close to his heart.
Although it might seem odd, I left the show that night not with more appreciation for the showman William Shatner, but for more respect for the man and his life itself.
Barbara Cigarroa is a Community Education Apprentice at the Austin Film Society.

[Photo at top of William Shatner in Miss Congeniality, in a San Antonio-shot scene in front of the Alamo.]