Lone Star Cinema: Baby, the Rain Must Fall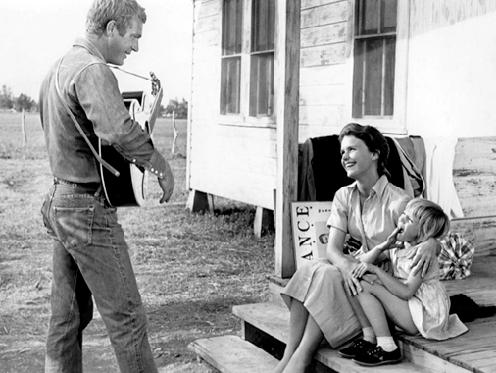 Baby boomers and younger fans of Sixties pop music may remember folk singer Glenn Yarbrough's "Baby, the Rain Must Fall," a major 1965 hit that remains a staple of oldies radio station playlists.
Less well remembered is that Yarbrough's hit is the title song from Baby, the Rain Must Fall, a 1965 movie starring Steve McQueen and Lee Remick. In many ways, the lackluster drama deserves its relative obscurity. But with many Texas connections, it's a significant part of the state's film history.
Set in Columbus, Texas, Baby the Rain Must Fall is the story of Columbus native Henry Thomas (McQueen), an aspiring rockabilly singer/guitarist recently paroled after serving a sentence for stabbing a man during a bar fight. Thomas does his best to stay sober and out of trouble with help from Deputy Sheriff Slim (Don Murray), a lifelong friend who keeps an eye on him. Not so helpful is Henry's elderly, controlling foster mother, Kate Dawson (Georgia Simmons), who wants him to give up his singing career and threatens to have him sent back to prison if he doesn't abide by her wishes.
During his imprisonment, Thomas's mostly estranged wife, Georgette (Remick), and six-year-old daughter, Margaret Rose (Kimberly Block), had been living in Tyler. When they travel to Columbus to reunite with him, their arrival surprises Henry, who had hoped to keep his family a secret from his employer and many of his friends. But he makes them part of his life again, moving the family into a ramshackle house outside of town.
All goes well until Henry's temper gets the better of him and he returns to his old ways of brawling, jeopardizing his parole. It's up to Georgette and Slim to keep him out of prison as he battles his foster mother and inner demons.
Given the talent behind it, Baby the Rain Must Fall should be a much better movie than it is. Director Robert Mulligan's two previous efforts were Love with the Proper Stranger (also with McQueen, and nominated for five Oscars) and the iconic To Kill a Mockingbird. Screenwriter Horton Foote (who based the script on his play The Travelling Lady) was, of course, the Texas literary lion who wrote countless stage plays and screenplays, including To Kill a Mockingbird, Tender Mercies and The Trip to Bountiful. Combining these formidable talents with the megawatt screen presences of McQueen and Remick should have resulted in a fine exercise in southern gothic drama.
But it didn't. So, what went wrong? Not everything -- Baby, the Rain Must Fall has some good qualities -- but enough to result in a so-so film with a few truly awful moments. Foremost among these moments are McQueen's embarrassing attempts at lip synching. While mouthing lyrics dubbed by Billy Strange and pretending to perform with a band (trivia alert! -- Glen Campbell is one of the band members), the normally ultra-cool tough guy looks like he's being goosed in the buttocks while using his tongue to scrape something from the roof of his mouth. His faux guitar playing is no better; he appears to be holding onto his guitar for dear life, swinging it wildly while gyrating his hips. The result is comically awful, and while the rest of McQueen's performance is better (it couldn't be worse), he's never comfortable or convincing in the role.
On their own, McQueen's lip synching fiascos wouldn't sink Baby, the Rain Must Fall. But the film has more fundamental problems, including an uneven script that, due to cuts from Foote's original story, leaves out much of the characters' backstories and often doesn't explain their motivations. This is most problematic during the film's climax, a puzzling sequence of scenes that end much too quickly. Also, there is little chemistry between Henry and Georgette (more backstory would help here also), although the mother-daughter bond between Georgette and Margaret Rose is strong and convincing.
The tone of Baby, the Rain Must Fall also is uneven, with jarring transitions between idyllic scenes of small-town life, gothic drama (complete with creepy, macabre visuals suitable for any horror film), tender family moments and the explosive rages of a tortured ex-con. Curiously, the film also seems much older than it is; released in 1965, it looks and feels as if it were made 10 years earlier. Shot in black and white, it's bathed in an air of censored Southern gentility like a mid-Fifties melodrama, with a vintage-sounding orchestral soundtrack to match. When not orchestral, the soundtrack tries to mimic mid-Sixties pop music rather than using actual pop songs; the result sounds as fake as McQueen's lip synching. (It's possible that the filmmakers were going for a Last Picture Show-style vintage look. But the film clearly takes place in the current mid-Sixties era, so the anachronistic aura doesn't make any sense.)
Again, not everything about Baby, the Rain Must Fall misses its mark. Although playing an incomplete character, Remick gives one of her better performances, especially in her scenes with the young Margaret Rose. And the movie is at its best when capturing the lazier, hazier aspects of life in a small Texas town.
Texas film fans may find Baby, the Rain Must Fall interesting for its local connections, if not for its quality; it's nostalgic and watchable, but the Lone Star State has produced far better films. If you're a McQueen fan, proceed with caution. You're probably better off watching Bullitt or Papillon again, unless you have a perverse desire to watch McQueen do some very bad lip synching. (Don't say I didn't warn you.)
Baby, the Rain Must Fall is available online. A DVD also is available, but I recommend renting rather than buying it. The digital transfer is from a scratchy print and sometimes blurry, and the only extras are subtitles, scene selections, and trailers for three other Columbia Pictures releases of the era: The Bedford Incident, Fail Safe and In Cold Blood.
Austin/Texas connections: Baby, the Rain Must Fall was filmed in Columbus, Bay City and Wharton, where the Texas premiere was held. Foote was born in Wharton.