Review: Stand Up Guys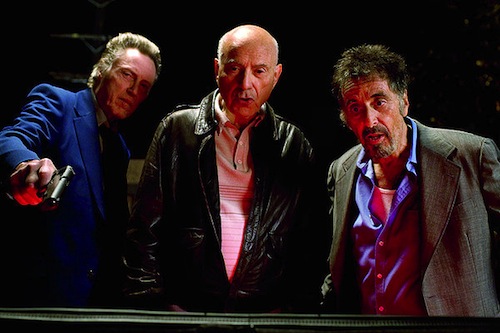 The hands of time move against us at the beat of a steady drum currying favor for no one. The film Stand Up Guys tells the story of what happens when mobsters reach their golden years. With an amazing cast, the movie creates an endearing story of friendship among thieves.
Stand Up Guys tells the story of Val (Al Pacino), an old school gangster, and his best friend Doc (Christopher Walken). After serving a 28-year prison sentence, Val is picked up by Doc. Wasting no time, Doc begins the process of reintroducing Val to a world that has changed a lot in 28 years. After some awkward re-introductions, Al and Doc set out for a night of girls, good food, great friends and simply making up for years that have passed these two by.
But as is often true, life is more complicated than that. Doc has been given a job, and that job is, to "take out" his best friend within the next 24 hours. Almost immediately Val smells a rat and asks Doc if he "has a job to do?" Doc freely admits he does but is faced with a difficult choice: save his friend or do what he has always done, his job. The men make a decision: Doc will carry through his job, but first they'll make Val's last day on earth a blast (literally and figuratively).
One more problem: They want to include their old friend Hirsch into the evenings hijinks. So their first adventure is to rescue Hirsh (Alan Arkin) from his nursing-home prison. I did tell you these were gangsters way past their expiration date, right? Hirsch is the catalyst that ignites the engine for this night of debauchery. What kind of trouble can a trio of old men get into? Lots, and that is what the rest of the movie is about.
Directed by actor-turned-director Fisher Stevens, Stand Up Guys is a simple story of friendship under fire. Doc is faced with an excruciatingly difficult decision and Val just wants to live life to the fullest. The story is how these guys "stand up" and make a decision.
Overall, Fisher has succeeded in creating an endearing little story. The relationship between Doc and Al seems true. As is often the case, Alan Arkin brings a good amount of levity to the film. In a Christopher Walken voice, I would say: "Needs more Arkin!" The main problem with this movie is its first act. The initial introduction to the characters and their predicament is tedious and boring, It takes Arkin's introduction to the film to get it going. As you age life can become tedious, filmgoers don't really want to watch this, especially when it comes to gangsters. If you survive the first 30 minutes, you will be happy you did. The story picks up and takes us in a fun jaunt for the next hour.
True friendship stands the test of time. Stand Up Guys does an amicable job examining the bonds of friendship.