Mike's Alamo Memories: 'Lamar est mort. Vive Lamar!'
This month, our community collectively said goodbye for a while to the flagship Alamo Drafthouse location and home of press screenings, special events, festivals like SXSW and aGLIFF Polari, and the two most dear in my heart: Butt-Numb-a-Thon and Fantastic Fest.
I have countless memories of this place, beginning with my first screening there eight years ago: Robin Williams in The Big White, the first screening of the first Fantastic Fest in 2005. I've likely seen more movies in this cinemaplex than in all the other theaters I've visited in my life combined. Certainly more than I dare attempt to count, though an average of 30 films each year for Fantastic Fest plus the five 24-hour Butt-Numb-a-Thons would equal roughly 600 hours, or 25 solid days of films watched there before we even started on SXSW, aGLIFF or any of the other shows.
No single word or phrase is sufficient to capture the significance of this place. It's not a mere theater, just a home away from home, or a paltry legend. It's all of the above, and a bag of chips. Tim League turned this former grocery-store location into a dream world, a pocket universe that brought a piece of Hollywood to us in the heart of Texas, sometimes with glitz and glamour and sometimes the Hollywood that sits behind the camera.
This is the place where I've been inches from (and in some cases chatted with, in no particular order) Rick Baker, Phil Tippett, Peter Jackson, Darren Aronofsky, Tim Burton, Roger Corman, Frank Darabont, The Wachowski Starship, McG, Uwe Boll, Don Coscarelli, Scott Derrickson, Adam Green, Joe Lynch, Lucky McKee, Ethan Hawke, Joseph Gordon Levitt, Mel Gibson, Doug Benson, Susan Tyrell, Bill Murray, Paul Rudd, Winona Ryder, Martin Landau, Zack Ward, Richard Kelly, Dominic Monaghan, Kevin McKidd, Josh Hartnett, Jason Momoa, John Gulager, Clu Gulager, Barbara Crampton, Danny McBride, Justin Theroux, Noah Segan, Rian Johnson, Jess Franco, Angela Bettis, Anton Yelchin, Dave Franco, Christopher Mintz-Plasse, Jeff Fahey, Jeffrey Combs, Dolph Lundgren, Karl Urban, Darren Bousman, Bill Pullman and Craig Brewer ... among many many others.
It is the place where we've partied until dawn and then come back for another day of movies and partied til dawn again... for a week... every year... for almost a decade. It is the place where, at one of those parties, the legend of Nacho Vigalondo was born with the introduction of the "swastika dance." It is the place where, at the same party the following year, sometime around 4 am, I saw 15 men pile atop each other beneath a shower of beer foam to the song "It's Raining Men." It is the place where I saw Elijah Wood, aka Frodo Baggins, on hands and knees in the middle of an impromptu live-action Human Centipede re-enactment, making him truly "one who has seen the eye."
It is the place where I touched the Ten Commandments, attended a funeral service worthy of a true Hollywood star, helped program a film festival and embarked on the journey to become a movie critic.
Most importantly, Alamo Drafthouse South Lamar is where I met so many countless friends with similar and even greater love for movies than my own. I close my eyes and I remember so many moments. Here I am meeting Emily Hagins and her mother for the first time. Here I am being introduced to Jeff Mahler. Here I'm in line for check-in meeting Paul Gandersman. Now I'm sitting down for a screening with him meeting Jennifer Blair and Q Manning. Here I'm sitting in the hall between screenings talking to Harry Knowles. Now I'm at a birthday screening for Scott Weinberg, the first time I ever saw the movie Halloween. I'm watching Emily Hagins grow from a pre-teen into an accomplished young woman. I'm sitting in the front row shooting photos of my friend C. Robert Cargill and his team during the Q&A for the midnight SXSW premiere of his first feature film, Sinister. I'm sitting at the picnic tables on the porch watching friends debate about movies, recording themselves with a phone to later put on the web.
That's all still going to be there when Soiuth Lamar reopens in nine months. Change is no stranger to 1120 S. Lamar Blvd, whether it's relocating the box office, adding a set of doors, remodeling the Mondo store or turning an abandoned thrift store into one of the hottest nightclubs in Austin. The Highball, barely over three years old, will be truly missed. The very bowling lanes featured in The Big Lebowski are gone, and as I write this, the building has already been demolished. There are wonderful memories in that place, but my heart, my life is in the Drafthouse, and that will be back bigger, bolder, and better than ever in the blink of an eye. With that knowledge, I refuse to mourn what was, but I will also never stop celebrating what has been and will continue to be.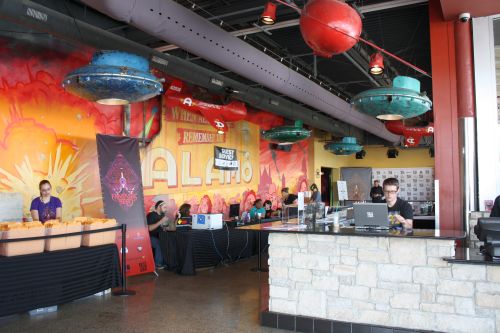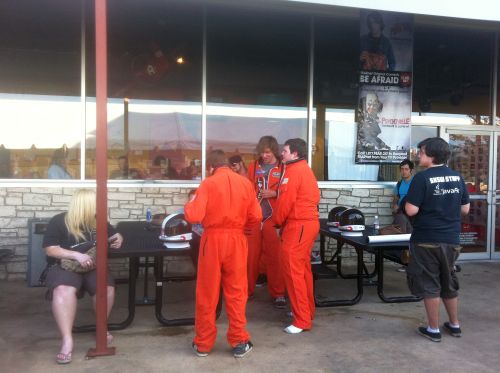 [Photo credit: Mike Saulters. All rights reserved, copyright 2009-2012.]