Review: The Last Stand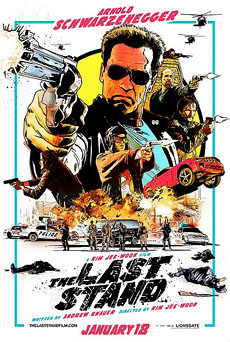 The Expendables 2 was only a mild teaser of the legendary Arnold Schwarzenegger's return to making action films. What we've really been waiting for is his own action vehicle, and it finally hits theaters this week in The Last Stand. There's an added element to this movie that makes it special and ramps up the anticipation, at least for a few movie fans.
The Last Stand marks Korean director Jee-woon Kim's first American film. He's directed some amazing films, among them I Saw the Devil, The Good, the Bad, the Weird and A Tale of Two Sisters. He's proven to be a director who can handle violence with ease, and is able to get great performances out of some memorable villains. The quality of The Last Stand isn't quite up to par with the level of quality in his earlier Korean films, but some of his signature elements are still here and make it overall a good time at the movies.
Arnold plays Ray Owens, a small-town sheriff of an Arizona border town. On a light weekend, when most of the town leaves to watch the local high-school football team, an escaped fugitive attempts to cross the Mexican border, and the only town in his way is the home of Sheriff Owens. In the words of Schwarzenegger's Jack Slater from Last Action Hero, this fugitive just made a big mistake.
As expected, Jee-woon Kim handles violent action brilliantly, full of unflinching gore, and lots of mostly practical blood. There's a great villain in Peter Stormare. Wisecracking, intimidating, has just a silly an accent as Arnie.
The Last Stand has one main problem throughout, though and it's the writing. It's hampered by a weak first act, and very cheesily written. This shouldn't dissuade too many people from watching it though, because it is an action vehicle starring Arnold Schwarzenegger, it isn't Shakespeare with guns. Once you get past the anemic first act, sit back and enjoy the ride because it is a fun one.
The rest of the cast, Arnold and Stormare aside, do a pretty good job, and all have comedic moments to shine, Johnny Knoxville and Luis Guzman especially. For a Texas connection, Friday Night Lights alum Zach Gilford (Matt Saracen) has a nice role in the film.
There was a lot to be cautious about concerning The Last Stand. Arnold's age, Jee-woon Kim's first American film, a January release that always spells doom for a film, Johnny Knoxville is in it, etc. Thankfully, it delivers on most of its promise with great action, fun dialogue and a cool villain. It doesn't reinvent the wheel of the action genre, but you can't ask for much more from a Schwarzenegger action flick.