Sundance 2013: The Omnivorous Cinephile's Wish List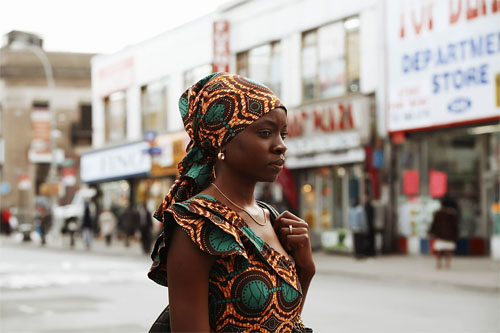 I can't abide prolonged cold weather, so I have avoided the Sundance Film Festival every year. Until now. Austin Film Society Associate Artistic Director Holly Herrick has persuaded me to go this time. After looking over the titles, I have gotten excited about the prospects. So, off I go today to Dillard's to add to my paltry "winter wardrobe" rarely worn in Austin. On Thursday, I fly to Utah for six days of movie-watching. Among the 21 films I propose to watch are a dozen (eight documentaries, four narratives) that I must see, provided I don't slip on the ice or get deterred by a flash mob surrounding a celebrity.
When I Walk -- Filmmaker Jason DaSilva had been making films since he was 17, but when he was diagnosed with multiple sclerosis at the age of 25, he kept on making films. In his latest, he has turned the camera on himself and his struggles to pursue his craft.
Running from Crazy -- Born four months after her famous grandfather's suicide, Mariel Hemingway eventually followed her older sister Margaux into acting. After Margaux committed suicide in 1996, Mariel began to contemplate the self-destructive family trait. Veteran documentarian Barbara Kopple (Shut Up & Sing, Harlan County U.S.A.) explores the Hemingway family history and Mariel's mission to prevent suicide.
The Stuart Hall Project -- British filmmaker/Leftist intellectual John Akomfrah considers the state of cultural identity in the 21st century. Taking himself as an example, he determines that a person's culture is fluid, constantly moving back and forth between new, complex possibilities and nostalgia for an earlier, simpler identity.
The World According to Dick Cheney -- Why will I spend nearly two hours with a man whom I disliked so intensely during his eight years as Bush's VP? Because of his own self-description as the "most consequential" vice-president. I think he is right, but I have to see his own self-justification in R.J. Cutler (The September Issue) and Greg Finton's documentary, which will doubtlessly leave me depressed.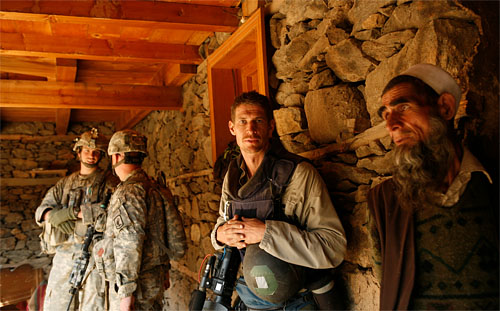 Which Way Is the Front Line from Here? (pictured above) -- Tim Hetherington, co-director of the award-winning Restrepo, returns post-mortem to Sundance as the subject of a film. Fearless in his quest to capture images, both still and moving, of soldiers in war, Hetherington died from a mortar blast. His friend and colleague Sebastian Junger (the other co-director of Restrepo) has created this portrait of a man who sought the meaning of life in war zones.
Citizen Koch -- When the Supreme Court made the Citizens United decision in 2010, corporations and Super PACs were suddenly free to spend unlimited amounts on political campaigns, both national and local. That decision didn't prevent President Obama from being re-elected, but on the state level, unbridled special-interest groups have wreaked havoc. This doc from Trouble the Water directors Tia Lessin and Carl Deal looks at the effect of this dramatic shift in political financing and power in Wisconsin and Louisiana.
Pandora's Promise -- In what promises to be the most controversial doc at Sundance, veteran filmmaker Robert Stone completely reverses his earlier stance in the anti-nuclear Radio Bikini (1988). Now, after countless discussions with environmentalists, scientists, and energy experts, Stone believes that nuclear energy, created by "reactors that are self-sustaining and fully controllable and ones that require no waste disposal," will be the only solution to Earth's energy needs.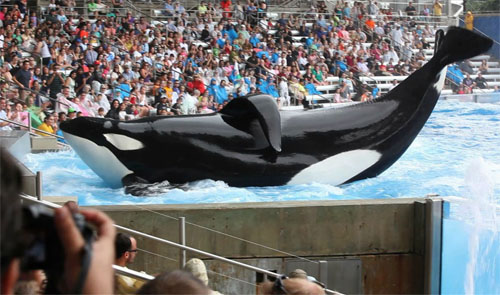 Blackfish (pictured above) -- I get no pleasure from watching animals "perform" anywhere but in their natural habitat. So I'm never surprised when some of the enslaved ones turn on their trainers. This doc looks at orcas ("killer whales") such as Tilikum and reveals a lot of questionable practices behind the scenes in the obscenely lucrative sea-park industry.
Soldate Jeannette (Soldier Jane) -- This narrative feature by Austrian agent-provocateur artist Daniel Hoesl promises to be a challenging look into the intertwined lives of two women. Fanni is sick of her pampered life full of beautiful things. So she sets off on an Alpine trek until she meets Anna, a woman stuck in pig shit and farm life. With different goals in mind, Fanni and Anna become determined to redefine themselves.
Metro Manila -- Moving from poverty in the countryside to grinding destitution in the big city is a worldwide phenomenon and tragedy. Rice farmer Oscar Ramirez seems to have had a lucky break when he is offered a job for an armored truck company. But the job has a high mortality rate and what seemed like kindness on the part of his new boss may have darker undertones in this social-realist thriller from Sean Ellis (Cashback).
Pit Stop -- Austin-based writer/director Yen Tan, who has done some excellent graphic design work for AFS, examines the lives of two gay men and their loved ones in a small American town. Unable to create the freedom or anonymity of big cities, they are outsiders who must find ways to survive and perhaps even experience romance.
Computer Chess -- Who could pass up an Andrew Bujalski premiere? Not initially a fan of his earlier work, I have grown to guiltily enjoy his passive protagonists, who talk a lot but do little. His third feature, Beeswax, was almost a Bujalski action film with scenes all over Austin. Now in his fourth feature film, the director visits 1980 when a convention of computer nerds, happily locked away in a low-rent motel, are trying to craft a program which will beat chess masters. Doubtlessly adding to the comedy is the presence of a group of new-age couples on their own quest at the hotel.
If my high-altitude, Snickers-and-caffeine-fueled madness persists, I will try to fit in as many of these others as possible:
I'm also looking forward to the party AFS is hosting for Richard Linklater and some of the cast of Before Midnight, a luminous and mature film that I've fortunately seen in preview here in Austin. AFS is holding a separate party celebrating other Texas filmmakers represented in this year's Sundance lineup. Since their films are playing after my six days there, I will have to wait to see them back home. They have all put Texas and especially Austin on the cinematic map, so they certainly deserve their accolades at Sundance.