Review: Gangster Squad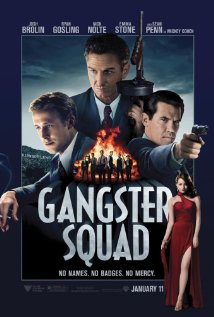 Director Ruben Fleischer is already well known for his hits Zombieland and Thirty Minutes or Less, but his latest movie, Gangster Squad is absolutely nothing like those features. That is to say, the gritty true-crime tale based on Paul Lieberman's seven-part LA Times-published "Tales from the Gangster Squad" series is a full 180 degrees from Fleischer's comedic work. Somewhere in the middle between The Untouchables and Dick Tracy, Gangster Squad is an exceedingly bloody, bloodthirsty historical account of extensively-researched events from the early 20th century.
The film opens with an account of Mickey Cohen (Sean Penn), a mad-dog ex-boxer mob boss who violently disposes of any competitors. Penn plays Cohen so over-the-top it's impossible not to compare him to a Dick Tracy villain brought to life, a role he appears to relish. At times, his performance almost reaches Nicolas Cage levels of crazy.
Counter to this is Josh Brolin in the role he was born to play. The physical resemblance to Dick Tracy is unmistakeable, and Brolin plays Sgt. John O'Mara cool as a cucumber while, with violence equal to Cohen's, he takes down a room full of pimps assaulting a young girl. My favorite lines from the film: "'What happened to you?' 'They resisted arrest.' 'What happened to them?' 'They resisted,'" sums up the character, a war hero who's one of the only cops so honest he refuses all attempts to bribe him.
When word of O'Mara's exploits reaches the chief (Nick Nolte), he tasks the sergeant with forming an unofficial hit squad to clean up the city -- not by directly taking Cohen down, since somebody else would just take his place, but instead by making his criminal efforts unprofitable.
With his wife's guidance, O'Mara recruits a team including among others Gunslinger Max Kennard (Robert Patrick), radio man Conway Keeler (Giovanni Ribisi), and his close friend Sgt. Jerry Wooters (Ryan Gosling). What follows is an account of their exploits as they stumble through one bloody encounter after another. The story is straight-forward with little imagination in the plot, but the presentation is effective. Fleischer deserves credit for a beautiful recreation of 1940s LA which compares favorably to that of LA Confidential and hits practically every well-known location.
Originally thought to be Oscar bait, Gangster Squad just doesn't quite live up to the sum of its parts. Sensational source material, a popular director, one of the strongest casts assembled this year including Ryan Gosling, but the screenplay rarely elicits a strong emotional response and fails to glue it all together. The movie's a fun romp, and far bloodier than even Tarantino's latest. Definitely worth a watch, but not as memorable as one might have hoped.