Alamo South Lamar Memories: Closing with 'Chainsaw'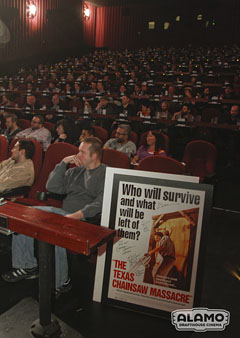 Two things for which the Austin, Texas film community is well known are The Texas Chain Saw Massacre and Alamo Drafthouse Cinemas. The first is a legendary horror movie from 1974, made by a very independent Austin film community. The second is the theater chain that represents all that is exciting about film exhibition. Owned and operated by true film geeks, Alamo Drafthouse is a home away from home for movie lovers worldwide.
On January 3, these two worlds combined to celebrate the temporary closing of a cathedral of film worship: Alamo Drafthouse Galactic Headquarters, located on Austin's South Lamar Boulevard.
Last month, the news spread that the Lamar theater would be closing for nine months (or thereabouts) for a massive remodel. Accompanying this closure would be an evening of kick-ass Drafthouse events on January 3, including special screenings of films like John Dies at the End, Pieta, Pretty in Pink, The Big Lebowski and ... drumroll please ... a double feature of The Texas Chain Saw Massacre from 1974 and its most recent sequel, to be released in theaters the next day: Texas Chainsaw 3D. Not only would we be seeing these two movies, but TOBE FREAKING HOOPER (who co-wrote and directed the original film) would be in attendance.
I had to be there! A few days later, tickets went on sale and I managed to score seats for this epic event.
I arrived at the theater an hour early to hang out with friends and see what the Drafthouse had cooked up. True to form, the Drafthouse crew had set up a photobooth with props and costumes. We had a little fun with this: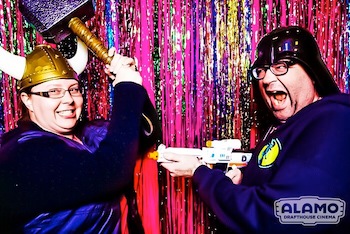 Soon after shooting that photo, we took our seats to see a masterpiece of horror unspooled before an audience of Alamo diehards. As expected I was in awe as I watched this film for the first time in glorious 35mm. The Texas Chain Saw Massacre is a grand horror film and the opening credits are a sight and more importantly set of sounds to behold. This film stands up well and if you haven't seen it recently, I highly recommend you revisit it.
After the screening the house lights came up and we were treated to a Q&A with the legend himself Tobe Hooper. We learned many facets of the making of this film. Including that reproducing the flashbulb sounds from the opening frames has proven impossible (the magic formula was lost somewhere), the house where The Texas Chain Saw Massacre was shot was unbearably hot and reeked of death (someone burned a pile of meat outside which seeped black fat-enriched smoke into the house). Q&As like this happen once in a lifetime and this was an experience I will not soon forget.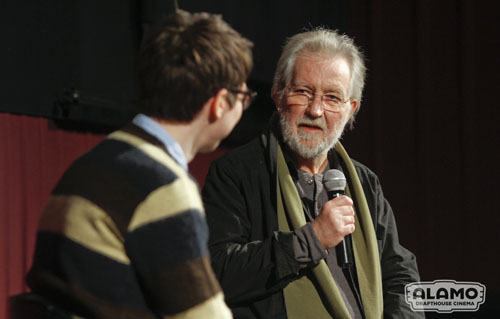 After the screening of the original Massacre we were pummeled with the trainwreck of a film Texas Chainsaw 3D. This movie is a poorly shot, shoddily scripted and incoherently produced film. As of this point, I shall repress the fact I saw this film as my last one at the original South Lamar location. Boom gone!
Events like this are made that much more special by the audiences and their enthusiasm for film. During last year's Fantastic Fest, I was chatting with Drew McWeeny of HitFix fame and he said something profound about the local film community. He declared that Hollywood is the best place for people who want to make films and went on to say that Austin is the best place for people who love to watch films. This comment stuck with me. Drew was right and the closing night of the South Lamar Drafthouse embodied what is best about this community. We all turned out to watch a classic Austin film in a classic Austin location. South Lamar will rise from the ashes!
[Photo credit: Photos of Chainsaw double-feature by Jack Plunkett, used with permission from Alamo Drafthouse.]