Alamo South Lamar Memories: Fantastic Fest 2008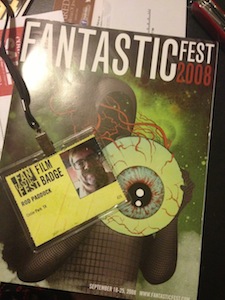 I moved to Austin from Seattle a little over four years ago. Before I moved to Austin I made sure of one thing: Did Austin have any decent film festivals? Seattle has one of the best festivals in the country and I didn't want to go without that annual experience. After some quick research I found SXSW and the Austin Film Festival. Check and check! My high (in my mind) standard was met.
Along with some great film festivals, Austin houses one of the best theatre chains in the US of A: Alamo Drafthouse! As an avid moviegoer it took me all of five seconds to recognize the greatness of this theatrical experience. I think I watched five or six movies at the Drafthouse before actually moving here.
On one my many visits to the South Lamar theater in 2008, I noticed a blurb in the monthly guide advertising something called Fantastic Fest. I did a little digging and came up with one reaction: HELL YA! This is THE type of festival I wanted to attend. So I ponied up for a badge and a few short weeks later I experiences filmic bliss.
I was exposed to some of the coolest films in all of mankind! I watched Let the Right One In, Repo: The Genetic Opera, Donkey Punch, Zack and Miri Make a Porno, Treevenge, Tokyo Gore Police, The Wreck, Not Quite Hollywood and many many others. I was also introduced to the mania that is Nacho Vigalondo (come to Fantastic Fest to see him in person). The festival was insane and I felt right at home. And over the years Fantastic Fest has become a real home with real family to me.
One of the side effects of attending Fantastic Fest was the amazing group of friends I have made in the last four years. I am really good with remembering faces -- I am crap at recalling names, but faces I can recall. What I noticed about the faces of Fantastic Fest was the fact that these were the same people I saw at EVERY Drafthouse event. I thought: Wow, there are film geeks like me? Yessir there are, and they all live in Austin! I was at home. In the ensuing years I have become friends with some of the greatest people I have ever met. This is ALL because of the Alamo Drafthouse and a lot of it started on South Lamar.