Lone Star Cinema: Brewster McCloud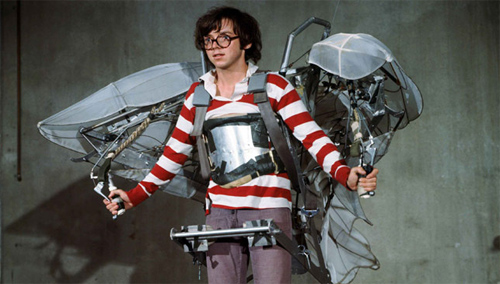 The Brewster McCloud DVD cover advertises the movie as "A different kind of film from the director of M*A*S*H."
Different. Now, there's an understatement.
Robert Altman's 1970 avian-themed follow-up to M*A*S*H is, well, an exceedingly odd bird. A sloppy mishmash of satire, crime caper and comic (but not terribly funny) weirdness, Brewster McCloud is hardly the renowned director's best work. But it's an interesting movie -- I wouldn't say it's a good one -- and one worth watching, if only to inspire a post-viewing discussion of what the hell Altman was thinking when he made it.
One thing Altman apparently wasn't thinking of is a coherent story. The titular McCloud (Bud Cort) is an introverted, intellectual young man who lives in the bowels of the Astrodome. His dream is to build a set of mechanical wings and fly, so he spends his days studying birds, building his wings, exercising to build up his muscles and sort-of-rejecting the advances of kooky Astrodome tour guide Suzanne Davis (Shelley Duvall, in her debut role). Watching over McCloud is Louise (Sally Kellerman), a guardian angel of sorts (she's certainly no angel) who gives him encouragement and protection.
McCloud pursues his dream in the midst of a Houston crime wave. A strangler is murdering local citizens; among them are bird-loving socialite Daphne Heap (Margaret Hamilton; you know her as the Wicked Witch of the West) and crotchety skinflint billionaire Abraham Wright (Stacy Keach). The victims have at least one thing in common: they've crossed paths with McCloud. (Is the mild-mannered bird man the killer?) Unable to find the culprit on their own, Houston police call in turtleneck-clad San Francisco hotshot detective Frank Shaft (Michael Murphy) to crack the case.
Narrating McCloud's adventures is The Lecturer (Rene Auberjonois), an oddball ornithologist who describes the many similarities between bird and human behavior. As he slowly morphs into a birdlike creature, he's no less bizarre than anything else in the film.
So, what was Altman thinking? Your guess is as good as mine. Brewster McCloud may be a cinematic statement about taking wing to escape the earthly bonds of The Man's oppression. (Hey, brothers and sisters, this was 1970. Flying with your own wings was, like, the ultimate trip.) Or maybe it's a satire of such cinematic statements. Or something else entirely: The Lecturer has us believe the movie is a commentary on how humans, despite our intelligence, are merely animals whose behavior mimics that of far less intelligent species. Yeah, we have technology -- but we're all just birdbrains.
Whatever Brewster McCloud is, it's as messy as the bird poop that splatters the characters in seemingly every scene. The humor is surprisingly lowbrow for an Altman film; aside from the virtually nonstop bird poop jokes, there are clichéd goofy cops, an absurd car chase, cheap sexual innuendo and a lot of quirkiness for the sake of quirkiness. The film goes many places, but never stays anywhere long enough to make much sense or mine much humor from its grab bag of random themes and scenarios. (Altman hated the original script by Doran William Cannon and mostly discarded it. He improvised many scenes, and this improvisation is sometimes painfully obvious.)
Messy as it is, Brewster McCloud is a watchable, sometimes intriguing mess. It's more puzzling than terrible and held my attention from the Lecturer's opening monologue to the abrupt, surreal, thoroughly Altman ending. Forty-three years after its release, the film also has an undeniable nostalgic quality. Like many films of its era, it shouts 1970! with its vintage look and then-ubiquitous actors (aside from Cort, Kellerman and other stars of the era, look for William Windom, John Shuck and G. Wood). And then there is the soundtrack of John Phillips songs accompanying shots of miniskirts and muscle cars.
Brewster McCloud opened to mixed reviews from mystified critics, who weren't expecting a film so lowbrow and unfocused from the man who gave us the vaunted M*A*S*H. (The two films also share a half-dozen cast members.) Audiences were just as mystified; Brewster McCloud was far less successful than its predecessor, although it has developed a cult following among Altman fans.
Brewster McCloud is not available online. Warner Archive sells an on-demand DVD-R, which is overpriced and has no extras other than the trailer. Don't buy it unless you're an Altman collector and/or true devotee of the film. But a rental viewing is worth your time -- Netflix doesn't have it, but both locations of Vulcan Video do.
Austin/Texas connections: There are many, as Brewster McCloud was filmed entirely in Houston. Aside from many Astrodome scenes, Houstonians will recognize Astroworld, Buffalo Bayou Park, the Houston Zoo, Rice University and many other landmarks. The movie premiered in the Astrodome to a crowd of more than 23,000. Shelley Duvall is from Houston. Longtime Austin actor Gary Chason is the film's casting director and has a minor role as a camera store clerk. The Texas Chain Saw Massacre's Marilyn Burns, still in high school at the time, makes an uncredited appearance as a tour guide.