Review: This Is 40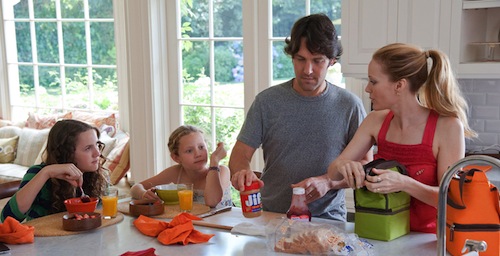 Viagra, flatulence, misbehaving children, troubled businesses, aging parents -- this list could describe late-night infomercial topics, but for our purposes it describes the litany of topics brought to the fore in this winter's charming comedy This Is 40 from filmmaker Judd Apatow.
This Is 40 explores the lives of Pete (Paul Rudd) and Debbie (Leslie Mann), two characters we met in Apatow's 2007 hit comedy Knocked Up. Pete and Debbie are a typical suburban couple with a house, two precocious young daughters, a pair of struggling businesses, difficult relationships with aging parents ... and life clocks striking 12 on that most dreaded age: 40!
The film starts in the bedroom where Pete and Debbie are about to have "relations" when Pete confesses to Debbie his recent ingestion of Viagra. Oops! Debbie has a negative reaction to this and conflict begins. The story then proceeds to take us through the successes and difficulties of the couple's complicated lives. Pete's record company is experiencing difficulties, his father is a drain on family resources and he is afraid of admitting failures to his wife. Debbie is experiencing similar difficulties. One of her business's employees is stealing from her, her relationship with her father is strained at best and worst of all: She is turning 40. The movie is spent dealing with the realities of life, accompanied by some good heartfelt laughs.
Writer/director Apatow has a knack for taking common everyday activities, adding his talented wit to them and spinning comedic gold. In The 40-Year-Old-Virgin, he created hilarity in the lives of big-box store employees. A simple trip to an eBay store made Jonah Hill a star. Later on, Apatow made pregnancy funny in Knocked Up. Today the highly productive writer/producer/director makes the reality of suburban existence yet another source of comedic joy.
This Is 40 is an authentic look at a couple's everyday life. As a person representing the demographic in this film's title, I found myself laughing and grimacing at the same time while watching this film. It's this type of emotional juxtaposition that tells you this movie's inspiration comes from someone with experience. IMDb confirms this fact: Apatow is 45.
When viewing a film like this it is important to feel the authenticity of the people playing the characters. Once again, Apatow strikes gold. Paul Rudd and Apatow's real-life wife Leslie Mann portray their characters in a genuine way. You feel the pain of their failures, joy in their successes and warmth in their real feeling for each other. The supporting cast accompanying Rudd and Mann on their walk down the suburban sidewalk is also second to none. Pete's and Debbie's fathers are played by Albert Brooks and John Lithgow, respectively. Also included in the cast are Jason Segel, Melissa McCarthy, Chris O'Dowd and Megan Fox. You could not go wrong with the casting choices of this movie.
Hitting 40 can be a traumatic experience in many a person's life. This Is 40 helps bring joy to a part of live that is challenging at best.