Prep for 'Holy Motors' with a Leos Carax Retrospective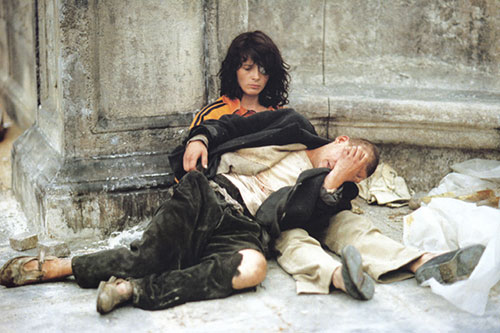 After almost 13 years, French film writer/director Leos Carax brings his unique visual imagery and surreal minimalistic storytelling to the screen with the critically acclaimed film Holy Motors, which opens in Austin on Friday, December 7. Denis Levant stars as Monsieur Oscar, a mysterious character who travels throughout Paris and takes on different roles -- beggar, monster, father, captain of industry -- accompanied only by his driver Celine, exquisitely portrayed by Edith Scob.
To celebrate Carax's return, Austin Film Society and Alamo Drafthouse present a retrospective "Essential Cinema Plus: The Films of Leos Carax" from December 2 -10, at Alamo on South Lamar. Tickets are $8 for AFS members and $10 for general admission. All films are in French with English subtitles.
Here's the lineup:
The Lovers On The Bridge (1991)
Sunday, December 2, 7 pm (screening info)
Juliette Binoche and Denis Lavant (pictured at top) star in this dark romance set on Paris' oldest bridge, the Pont Neuf, as a homeless painter and circus performer.
Pola X (1999)
Thursday, December 6, 7 pm (screening info)
Based on the Herman Melville novel Pierre; Or, the Ambiguities this film starring Guillaume Depardieu, Yekaterina Golubeva and Catherine Deneuve centers around a privileged young writer who experiences misadventures after meeting a young woman claiming to be his long-lost sister.
Boy Meets Girl (1984)
Sunday, December 9, 7 pm (screening info)
Carax's feature directorial debut uses black and white and visual imagery to create an artistic tale of a relationship between a young filmmaker (Denis Levant in his first starring role) and a jilted and suicidal woman (Mireille Perrier).
Mauvais Sang (1986)
Monday, December 10, 7 pm (screening info)
Rival gangs fight over a rare serum that has the power to vaccinate against a deadly virus in the future, starring Juliette Binoche, Denis Lavant and Michel Piccoli.
Watch the original trailer from Boy Meets Girl below: