Review: Rise of the Guardians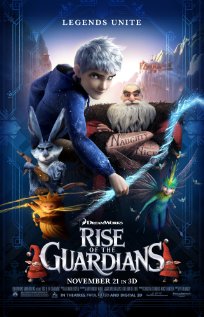 It is an old idea that gods lose their power when people stop believing in them, but one generally reserved for adult fiction. Opening this week, Dreamworks Animation's Rise of the Guardians makes that its central plot device as the evil boogeyman, Pitch Black (Jude Law), tries to cover the world in darkness by making children stop believing in their heroes, Santa Claus (Alec Baldwin), the Easter bunny (Hugh Jackman), the tooth fairy (Isla Fisher), and the sandman. The screenplay by David Lindsay-Abaire was based on novels by William Joyce, who has been prolific lately, with three novels and two picture books published in 2011 and 2012 as well as an Academy Award-winning short film that he wrote and directed.
The story takes place in a world where the titular Guardians are real people chosen by the Man in the Moon to act as protectors for children around the world -- though, it would appear from the script the only thing they are protecting is the children's belief in them. Newly recruited to the group, Jack Frost (Chris Pine) has abilities that will make him instrumental in the struggle with darkness. Beautiful art design and an extremely talented voice cast bring this story to life making for an unconventional holiday adventure.
Director Peter Ramsey has crafted a fun movie that children will adore, though Rise of the Guardians likely won't be remembered by parents as a timeless classic like A Nightmare Before Christmas (the first film that comes to mind involving holidays personified). The animation is stunning, and the 3D is seamless, but scenes regularly involved rollercoaster camera work that serve more to appeal to children with short attention spans than to help the story along.
Also, a rare complaint in children's films, but the end title song "Still Dream" performed by Grammy-winning vocalist Renée Fleming (and the first listing on the soundtrack album) made it difficult to patiently wait for the post-credits scene. Though of course flawlessly performed, the song felt so abruptly out of place and different in tone from the rest of Alexandre Desplat's score, it was as though someone had changed the channel and we were watching the credits for a completely different film.
Overlooking these missteps, there is much to love in Rise of the Guardians. Desplat's score is some of his best and most ambitious work. The art direction is stunning, and the characters are fun and interesting. In particular, I enjoyed the original approach to traditional characters. The Easter Bunny is voiced by Hugh Jackman with his native Australian accent laid on so thick Jackman wasn't recognizable. And Alec Baldwin's Kossak-sounding, sword-wielding Santa captures the spirit of the American Santa Claus while hinting at more traditional European origins of the character. Baldwin's voice, likewise, is unrecognizable in-character, and he voices the role joyfully, obviously enjoying himself as much as his character does.