Ready, Set, Fund: Hipsters, Huey Long and Small-Town Texas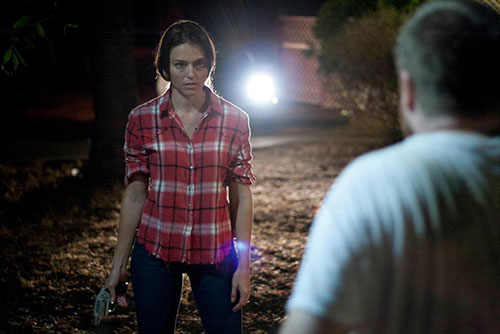 Ready, Set, Fund is a column about crowdfunding and related fundraising endeavors for Austin and Texas independent film projects.
Local director Geoff Marslett (Mars) has wrapped filming in Austin and New York City for his first live-action feature film, Loves Her Gun (pictured at top), which stars several familiar Austin actors including Chris Doubek, John Merriman, Ashley Rae Spillers (Saturday Morning Massacre), and Heather Kafka (Lovers of Hate). It's about a Brooklyn hipster who flees to Austin after she's been attacked. Funding for post-production work is still needed, so the filmmakers are running an Indiegogo campaign through Wednesday, December 5. Currently the only way to get DVDs of Marslett's film Mars is as a perk at the $25 backer level or higher. Marslett says that if the campaign meets its fundraising goal then Loves Her Gun is expected to screen in early 2013.
61 Bullets is a historical documentary project that centers around a famous assassination in 1935. U.S. Senator Huey P. Long, Louisiana's most powerful and influential governor, was shot by Dr. Carl Weiss in the Louisiana State Capitol. Director David Modigliani's previous documentary, Crawford, debuted at SXSW in 2008 and won the Austin Film Critics Association award for Best Austin Film that year. The production is a Texas Filmmakers' Production Fund recipient; however, the filmmakers still need money to finish production and meet post-production costs. They're wrapping up a Kickstarter campaign that is close to meeting its goal by this Friday, November 16.
University of Texas at Austin student film Paper Bag, which is set in rural Texas, recently wrapped principal photography and is currently funding on Indiegogo through Wednesday, December 19 for post-production costs. Teenager Marley discovers that she is pregnant shortly after losing her boyfriend, and struggles for control of her life with her mother as well as her boyfriend's Christian mother. Writer and director Crystal Zea describes Paper Bag as "if Juno grew up in the middle of west Texas with a kick-ass mom and some pretty questionable morals to keep her company."
Other film projects currently funding this month:
Have a project that you would like to be considered for an upcoming "Ready, Set, Fund," feature about crowdfunding and related fundraising endeavors for Austin and Texas independent film projects? Contact us with subject line "Ready, Set, Fund" if you've got a film fundraising project going on you'd like us to know about.