Scarlet Waters 5 Showcases Genre Films (and Musicians Too)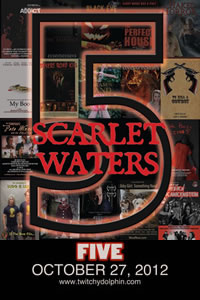 Austin genre showcase Scarlet Waters held its fifth iteration last weekend in Central Austin showcasing some great worldwide filmmaking and musical talent. The event served as the backdrop for the fifth birthday of Twitchy Dolphin Flix, Austin's prolific microbudget film company.
A few of the filmmakers, including Mike Donis from Toronto, spent part of the day talking to aspiring film students from a local middle school. Donis said he "loves talking to the kids." This was his second year visiting with Austin-area students. He enjoys the chance to let kids know that they can make movies, as long as they work hard.
Opening the weekend festivities, Twitchy Dolphin Flix held a music showcase of some of the talented artists who have helped make the Twitchy films so dynamic. Lauren Hayes, Clif Haley, Jon English and Brandon Whitlan took the Stompin' Ground Lounge's stage and entertained the energized crowd. The night featured more than just music however. A costume contest saw some great movie characters from the past (Quint, Pussy Galore and Tony Stark, to name a few). In addition, the cast of Twitchy Dolphin's new comedy about the adult film industry, XXXX, was revealed.
Starting early Saturday morning, the movies started screening and ran nonstop until 11:30 that night. Features, shorts and even a live performance delighted the audience. Filmmakers from around the world were in attendance, representing their films and enjoying the opportunity to interact with Austin filmgoers. Austin's reputation as a indie film-friendly town held true as all the screenings were well attended and the crowds enthusiastic.
Scarlet Waters, sponsored by Underdogs.com, Ambassador Global Group and The Austin Chronicle, ended with an awards ceremony. The awards for Twitchy Dolphin films were held in a separate category to avoid the appearance of nepotism. The full list of awards is below.
Submissions for Scarlet Waters 666 will begin in the spring. The fest will change a bit as Twitchy Dolphin adapts to growing interest in the event. All Austin-area filmmakers are encouraged to submit films.
The Scarlet Waters award winners:
Best Feature: The Perfect House
Best Short: Titans
Best Mini Short: Get Off My Porch
Best Actor, Feature: Kneel Green (Black Eve)
Best Actress, Feature: Angela Tropea (Naked Horror)
Best Actor, Short: Alejandro Patino (Desert Road Kill)
Best Actress, Short: Jossaro Jinaro (Desert Road Kill)
Twitchy Dolphin Filmmaker of the Year: Carlo Rodriguez
Best Twitchy Dolphin DIrector: Terissa Kelton (Dear Boss Ripper)
Best Twitchy Dolphin Actor: Marc Wasserman (Dear Boss Ripper)
Best Twitchy Dolphin Actress: Cassidy Schiltz (Satana Domina)
Best Experimental Film: Pete Winnin Experience
Frank & Jake Dertals Award: The Sacrifice
Nathan Bybee Award: My Boo
CineMafia Award: Janet Mayson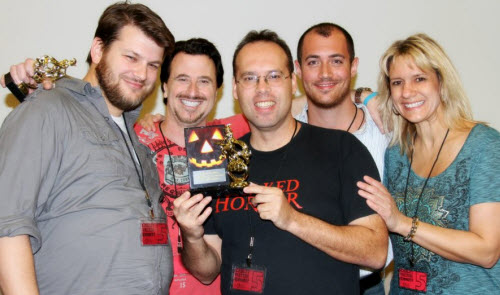 [Photo credit: Carlo Rodriguez. Used with permission.]