AFF 2012 Dispatch: Activists, Muslims and Looking for Old Friends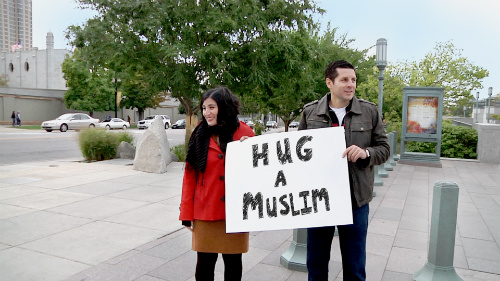 I had a somewhat low-key start to my Austin Film Festival as I only attended one movie on opening night. I chose to watch Finding Mercy, which screened at the Bob Bullock Texas Spirit Theatre. I think there were only about 20 of us at the Thursday screening, which was a tad disappointing.
In this documentary, filmmaker Robyn Paterson, who was raised in Zimbabwe, goes back to the troubled country on a quest to find her best childhood friend. Considering Mugabe's iron fist rule in the years since she left the country as a child, Paterson almost fears the worst, but is determined. She meets up with other childhood friends in her journey -- the one who is now a wheeler-dealer is quite interesting. She cuts deals with a shady cop, is sent on something of a crazy goosechase and covertly chronicles her search throughout.
Finding Mercy moved me far more than I expected it to (there were tears involved), and I was satisfied in my film choice for the first night. [Facebook page]
I attempted to start my second day of the fest on Friday afternoon, but was turned away when I tried to get into Shorts Program 9 at The Hideout. I missed Kat Pongetti's Stakeout (phooey), but it's great that so many people wanted to see that shorts program that it sold out quickly. I went into The Hideout to grab something to drink after my hurried walk to the venue, and heard my name called by my friend and pastor Joseph who was meeting there with another friend from church. I sat and conversed with them for a little while, so my visit to The Hideout was not in vain!
After meeting my pal April for an early dinner at Hickory Street (yum), we went over to the Bob Bullock IMAX to catch the environmental activism documentary Elemental. Luckily we were able to grab the second-to-last row of seats in the theatre, because it's not that comfortable to watch any closer to the screen.
This documentary depicts the work of three very different people working to better the environment: inventor/visionary Jay Harman, Dene Indigenous activist Eriel Tchekwie Deranger and Indian government official Rajendra Singh. In the Q&A, co-director Emmanuel Vaughan-Lee said they aimed to present these three "as human beings more than heroes."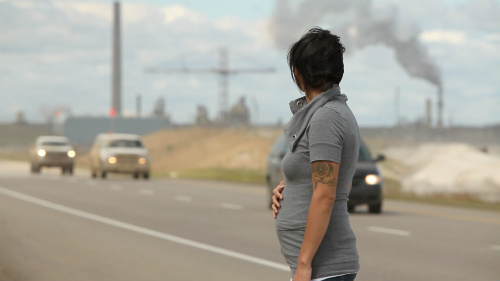 April and I agreed that Elemental was a sort of mixed bag. The scenes of nature and landscapes were beautifully shot. Vaughan-Lee said they attempted "to shoot as cinematographically as possible" and filmed completely on a Canon 5D.
Unfortunately, the environmentalists chosen by the filmmakers aren't the easiest folks to relate to. Harman's big idea to clean air seems far-fetched and unrealistic (but I'm not a scientist, so what do I know?). Singh talks a good game about cleaning the Ganges but doesn't tend to get his hands dirty. There are some uncomfortable scenes where villagers confront him on this. Canada's Deranger comes off as almost abrasive and (surprisingly for such a young activist) hesitant to use new methods to organize and protest tar sands development. At a fundraising dinner, Robert F. Kennedy Jr. recommends she get in contact with a couple of his associates and Deranger all but admits she won't.
After Elemental, we got in line for The Muslims Are Coming. This comedy-documentary had received some good pre-fest buzz, and the lines for the world premiere were loaded with people. We got into the IMAX again and had to wait half an hour for the screening to start because they were having credit-card machine issues, and they wanted the house full. Directors/comics Negin Farsad (Nerdcore Rising) and Dean Obeidallah were overjoyed at the crowd in the audience as they introduced their film.
The Muslims Are Coming highlights a comedy tour Farsad and Obeidallah set up through some Southern and Western states. They held free shows in order to show the diversity of Muslim comedians (or rather, how American Muslims are as American as any of us). Clips from their shows are interspersed with comments from funny people like Janeane Garafalo, Jon Stewart and David Cross, along with a rep from the Southern Poverty Law Center, Rep. Keith Ellison of Minnesota, religious figures and more.
I felt that The Muslims Are Coming did a great job of educating through humor. I loved Farsad's frankness and her potty-mouth, and I appreciated the discussion (as short as it was) about sexism in both the world of comedy and among some Muslims. The audience howled with laughter throughout the screening. It was refreshing, to say the least, after the seriousness of the earlier movie.