AFF Review: The Sapphires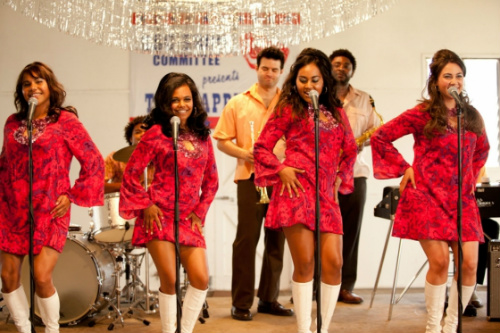 Movies about the Aboriginal experience in Australia fascinate me, from the ridiculous Australia -- which I love anyway -- to the far more intense Rabbit-Proof Fence. The Sapphires shares some common themes with Rabbit-Proof Fence (as well as sharing actress Deborah Mailman), but otherwise is different from other Australian films I've seen. Like the 2002 drama, this musical touches on the damage the Australian government did to the Aboriginal communities by removing children (the "stolen generations") from their parents.
Sisters Gail (Deborah Mailman), Julie (Australian Idol Jessica Mauboy) and Cynthia (Miranda Tapsell) used to sing with their cousin Kay (Shari Sebbens) as children until Kay was tragically taken away. Now it's the late '60s and the adult sisters meet soul-music-loving organ player Dave (the always enjoyable Chris O'Dowd) through a talent contest. Julie has found an ad asking for performers to entertain troops in Vietnam and the women -- along with their newly recovered cousin -- form a group and try out.
Soon they are traversing Vietnam through wartime, falling for handsome American soldiers and singing Motown numbers together. Dave has become the group's manager, and he and Gail are often at odds (oh my goodness, the sparks between these two characters). For a film that made me laugh countless times, The Sapphires is very dramatic in spots. The women are faced with racism in their home country and surrounded by the violence of war in Vietnam. Their ethnic identity plays a large role in the film. Gail is upset with Kay for acting white -- there's another story behind this anger as well -- and Kay comes to realize how much of her identity was taken from her when she was removed from her family.
The Sapphires deals with these heavy issues in a considerate way. I think the reason for this is not only the excellent performances by all actors involved, but also the screenplay by Tony Briggs. This film is based on his award-winning play, which was inspired by the experiences of his mother and aunt.
As far as the music is concerned, I was humming along with a number of the oldies. I'm not exactly sure that anyone besides Mauboy actually sang their parts in the movie (since I don't see any other actors listed on the soundtrack). Well, if they weren't really singing, they were believable lip-syncers. One especially touching moment is when the sisters sing "Yellow Bird" along with their mom.
Honestly, I'm eager to watch The Sapphires again. It's hard to find movies that can blend light-hearted moments and serious moments in such a seamless manner, without ending up melodramatic or cheesy. I believe The Sapphires succeeds at being laugh-out-loud funny and seriously inspirational.
[Still from Hopscotch Films]