SXSW Interview: Tommy Pallotta, 'American Prince'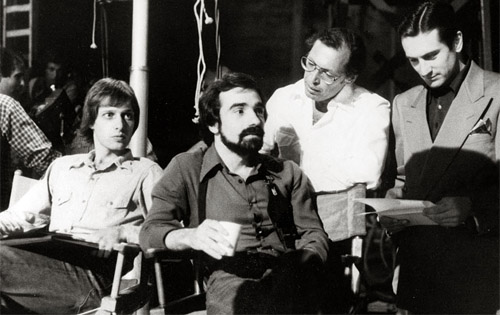 I emailed Tommy Pallotta a couple of weeks ago and asked him about doing an interview via email for his documentary American Prince, which is premiering at SXSW 2009. The former Austin resident is living in Amsterdam these days, so email seemed like the easiest way to communicate. Pallotta sent me what's essentially a very cool short article about the film. He told me to feel free to put it in interview format, but I love the story that this article tells and I don't want to break it up with questions and extra formatting.
American Prince is about Martin Scorsese's hard-to-find documentary American Boy and the man Scorsese profiled 30 years ago, Steven Prince. The two films will screen together during SXSW at Alamo South Lamar: on Saturday, March 14 at 7:30 pm, and again on Tuesday, March 17 at 11 am.
Check out some clips from the documentary and a very cool poster from the film over at Cinematical. And although this has nothing to do with American Prince per se, I recommend reading the Filmmaker Magazine interview with Pallotta about why he no longer uses Facebook or other social media.
And now let's switch to Pallotta on American Prince:
"About 10 years ago, a friend was building an addition on her house in Austin, Texas. She told me I should meet the contractor, she said he used to be in the film business and made movies with Martin Scorsese. I told her he was lying to her. She insisted that he was telling the truth and I should meet him.
After months of prodding, I agreed to go over there. As soon as the contractor turned around and spoke I recognized him. It was Steven Prince.
Many years before, I went to college at the University of Texas and studied Philosophy, but I really loved filmmaking. I would regularly ditch my Philosophy studies and go see the movies they would project for the Film students. That was when they would project film and didn't check to see if you were in the class. I had my own free film school.
One particular screening I was intrigued with was a collection of rarely seen Scorsese films: The Big Shave, Italianamerican and American Boy: A Profile of Steven Prince. I loved them all but was especially taken with American Boy. It featured the instantly recognizable gun salesman from Taxi Driver, Easy Andy. Obviously, he was a good friend with Scorsese. I saw a painfully honest glimpse of a morally complex man. Suddenly, I understood Scorsese's Travis Bickle and Jake LaMotta a little bit better.
After some pleasant exchanges, I blurted out to Steven that I had seen American Boy. I thought he would be happy to know that someone and seen and appreciated it. He turned at me menacingly and barked "Where have you seen that? No one is supposed to see it."
I cautiously explained, he lightened up. Later, I would come to realize this was just his way of sizing someone up. I knew Richard Linklater had also seen American Boy so when I was producing Waking Life, we came up with the idea of having Steven recreate one of his stories. I was surprised when he agreed and he seemed to enjoy the experience.
Steven soon moved to LA and we lost touch. After I produced A Scanner Darkly, I was planning to move back to NYC. As fate would have it, I decided to move as far away from there as possible and found myself in Santa Monica, California. I didn't know very many people and decided to look up Steven.
He started coming over once a week, usually on a Friday, we would talk, drink, watch movies. Mostly, I would want him to tell me his stories. Steven is a great storyteller and it became apparent to me why Scorsese decided to focus his lens on him. The stories kept coming and I started to realize what an influence he has had on film, but so few people probably realized it.
I started to take notes and the idea of recreating another night, like the night in American Boy seemed like fun. Then one night my longtime friend and collaborator Richard Linklater called and was in town and available for one night.
I knew Steven needed someone who hadn't heard the stories before and had to have someone he respected, someone who had a good history of film. I had one day to find a location, find a crew, and try to record the night and no budget.
Steven still had stories and still had the power to draw me in. This is Steven's next chapter and I am sure there will be more.
My main goal to revisit Steven is twofold. One, I want to see American Boy get the proper release it never received. Two, I want people to realize the influence Steven has had on American independent film."