AFF Review: Rising from Ashes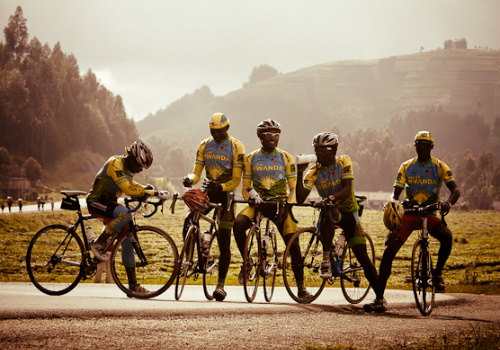 The documentary Rising from Ashes follows the formation of the Team Rwanda cycling team. As director T. C. Johnstone told me, "In 2005, I traveled to Rwanda with my friends Dan Cooper and Tom Ritchey ... One morning we arrived in the parking lot to find 15 cyclists; Dan had met them on a previous trip. They rode with Tom for 100 miles and over dinner the idea of a team came together. They asked if I was interested in making a film about it. Seven years later, here we are!"
Johnstone's film, narrated by actor/producer Forest Whitaker, portrays the beauty of the recovering African country while introducing viewers to the members of the new team, as well as their coach, Jock Boyer.
Although the focus of Rising from Ashes is on the team and the coach during this period of seven years, I felt like the only people I got to know somewhat well through the film were Boyer and Adrien Niyonshuti, one of the original team members. Boyer admits that he's "been given many chances," says that "cycling is about suffering," and comes across as slightly patronizing in one of the interview segments. Yet during his time with the men, Boyer comes to be seen as a sort of father figure to the team.
Before his trip to Rwanda, coach Boyer knew little to nothing about the genocide there (which honestly boggles my mind) but came to learn about the period of mass killings from his cyclists who survived it. Adrien tells the filmmakers that about 60 members of his family were killed during the genocide. Adrien's cycling ability progresses during filming, and his determination is almost palpable. He's an amazing fellow.
Johnstone and crew traveled with the team to various countries for different competitions, including the eight-day Cape Epic in South Africa and a trip to America in 2007. In 2010, Rwanda was able to host an Olympic qualifying cycling race. One of the most touching moments of Rising from Ashes occurs during this nailbiter of a contest. The men on this team, even as older members leave and new members join, share an obvious emotional attachment.
This documentary is lovely to watch -- the colors of Rising from Ashes are amazingly bright and vivid. The racing scenes are shot well, and I think fans of cycling will find much to appreciate about the film.
Austin connections: Director T.C. Johnstone and producer Greg Kwedar live in Austin.
Rising From Ashes will be showing Wednesday 10/24, 8 pm, at the Texas Spirit Theater.
[Production still taken by Robb Aaron Gordon]