AFF Review: Informant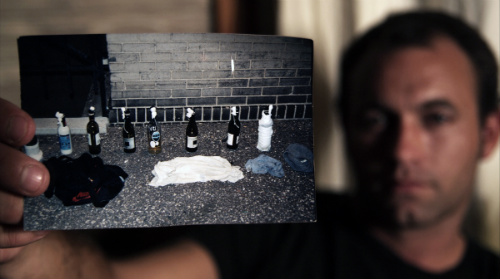 Informant, a thrilling documentary from Jamie Meltzer, tells the story of Austinite Brandon Darby, the former anarchist who turned in Brad Crowder and David McKay during the RNC protests in 2008. How did Darby morph from someone who "would've attacked the government for what it was doing to people" in New Orleans during Katrina to someone who trusted governmental authority so much that he would inform on a planned/possible attack? Meltzer's film, through intimate interviews (almost like on-camera confessions) with Darby and some of his former associates, attempts to explain.
The movie introduces the viewer to Darby through his work with other activists co-founding the Common Ground Collective in New Orleans after Hurricane Katrina. He comes off as determined in his work to serve the people in the Ninth Ward. He and his pal Scott Crow (also an Austinite) brought guns to the city to combat the violence against "looters." Crow speaks of Darby's "revolutionary rhetoric." Then when you think you have some vague idea about the kind of guy Darby is, or rather was, a bizarro trip to Venezuela brings a change to his character.
I love the twists and turns of Informant. While I'm generally not crazy about the use of re-enactments in documentaries, Meltzer kinda turns the technique on its head. In one scene, the actors even pause while Darby is asked to clarify a certain event.
Darby's ego plays a big part in this film -- I wrote "ego" at one point in my notes while watching, then just a little further down, "SO MUCH EGO." One of the young men who met with Darby in Austin before the RNC speaks about Darby's machismo. Other activists who knew him from his time in New Orleans talk about his wanting to be in control. A man who seems somewhat mindful and conscientious at the start seems to become another thing entirely as we learn more about events leading up to the RNC. Perhaps he has always had a capricious nature! The amazing thing about this film is how involved one gets in the tale, despite (or maybe because of) Darby's conflicting nature.
Informant won the Best Documentary Feature award at Austin Film Festival this year, and screens again at the fest on Wednesday 10/24 at 3 pm at The Hideout. Read my interview with Jamie Meltzer for more details about the movie.
Austin connections: Brandon Darby still lives in the Austin area. The feds tell Darby to visit Monkeywrench Books at one point. He met up with Crowder and McKay in Austin before they all headed to St. Paul for the convention.