Fantastic Fest 2012: Two from Austin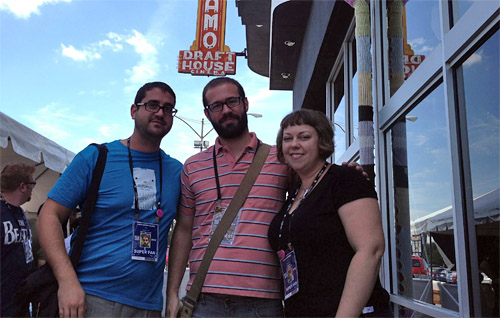 What better way to wrap up Slackerwood's Fantastic Fest 2012 coverage than with a look at the two Austin-made shorts that screened during the festival, both of which I enjoyed? And what could be more fitting than to publish this article on the day that Fantastic Fest selection Sinister, written by an Austinite, opens in U.S. theaters? (I love it when I can find a reason that doesn't look like procrastination on my part.)
Dialogue is a very short short -- about one minute long -- from the Austin filmmakers pictured above. Christopher Palmer, Josh Johnson and Carolee Mitchell took a break from working on their upcoming documentary about VHS tapes, Rewind This, to shoot this unsettling conversation between a couple (Daniel Sergeant and Samantha Pitchel) about something unusual that's happening to one of them. The short film is set in a living room but it's not the setting that's creepy. It was a perfect fit for Fantastic Fest, is all I'm going to say. Johnson wrote and directed, Mitchell produced, and Palmer worked on post-production.
The sad news I learned at Fantastic Fest is that Palmer and Mitchell are leaving Austin for New York soon. (I'm still considering Rewind This an Austin film. Mr. Johnson, you may not move out of town.) I'm sure we'll see them when their documentary screens in Austin, and also at future Fantastic Fests, where they are longtime regulars.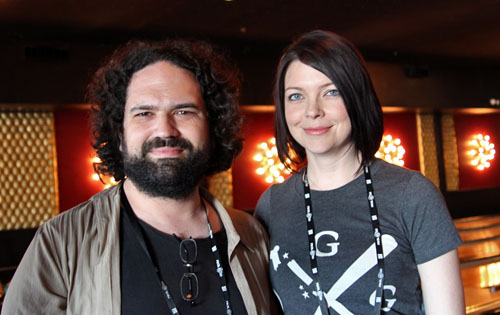 The Quiet Girl's Guide to Violence also screened at Fantastic Fest this year. This short film is about a solitary, shy young woman working as a barista who takes a few steps to break out of her introverted shell ... and then a few more steps .. and then the title makes more sense.
Jennymarie Jemison, who plays the "quiet girl" of the title, also co-wrote the film with T. Lynn Mikeska and director Rafael Antonio Ruiz. That's Ruiz and Jemison in the above photo -- Jemison is sporting a t-shirt with the film's logo on it. Yes, that's a baseball bat.
The Quiet Girl's Guide to Violence is set around the winter holiday season, and the most recognizable Austin location is the Zilker Christmas tree. Austin film fans might recognize actor Byron Brown, and local filmmaker Geoff Marslett (Mars) as a derelict Santa.
Where can you see these short films for yourself? Well, that's the tricky part. These films will likely spend some time on the film-festival circuit, nationally or even internationally. The Quiet Girl's Guide to Violence will play soon at the Telluride Horror Show in Canada and Zinema Zombie Fest in Bogota, Columbia ... among others. Check the film's Facebook page for updates.
We'll let you know when/if the movies screen again locally -- if all else fails, give it another year and I suspect they'll become available online.