Review: The Sessions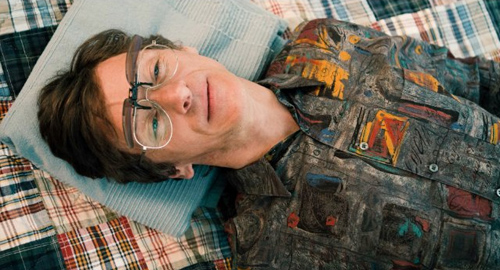 If John Hawkes's stunning performance in The Sessions doesn't win him an Oscar, what will?
The venerable, versatile actor came close to Oscar glory once before, with a best supporting actor nomination for his harrowing portrayal of meth addict Teardrop in Winter's Bone. If there's any justice in Oscar land -- hope springs eternal, folks -- Hawkes will take home the best actor gold this time for his dead-on turn as a lonely man in an iron lung.
Set in 1988 and based on a true story, The Sessions centers on Mark O'Brien (Hawkes), a 38-year-old journalist and poet confined to an iron lung for all but a few hours a day and determined to lose his virginity. A childhood victim of polio, Mark has lived an expectedly hard life, and one without dating or relationships. So, with help from his therapist, Vera (Moon Bloodgood), and the blessing of his priest, Father Brendan (a dry, wry and hilarious William H. Macy), Mark arranges for the services of professional sex surrogate Cheryl Cohen-Greene (Helen Hunt).
Things are predictably difficult at first: Cheryl is an experienced sexual coach, but Mark is by far her most challenging client. To complicate things, the two are limited to six sessions. This may seem like plenty of time, but isn't -- the early sessions are, ahem, over very quickly. (I don't know of a more delicate way to say it.) Guiding the skittish, over-reacting Mark from complete sexual novicehood to satisfying sexual intercourse is no easy task for Cheryl.
But intimacy becomes easier as The Sessions go by, and Mark and Cheryl develop an odd but real friendship. This is the heart of The Sessions, which probes deeply into their relationship and the forces that shape it. The two regard each other as therapist and patient and, if not lovers, as friends who share a lot of physical and emotional intimacy. (Romance isn't really a factor here, at least not mutual romantic feelings. "Friends with benefits" certainly isn't the right term either, as their encounters are more like therapy sessions than casual sexual liaisons.)
Although The Sessions focuses on Mark, it also spends a lot of time with Cheryl. Her backstory and personal life unfold in such interesting ways that I won't reveal any details here, except to say she becomes a far more complicated character as the story progresses. As The Sessions skillfully intertwines Cheryl's personal life with her professional one, her personal story lends a lot of depth to her relationship with Mark, and vice versa.
Director and writer Ben Lewin's script is among the sharpest and wittiest I've seen lately, touching on all the forces that inform human sexuality (biology, emotion, societal notions of morality, religion -- the list never ends) and creating complex characters who must deal with equally complex situations. Lewin's direction is superb also, keeping things moving in an extremely talky film. (Given that the protagonist spends the entire film in an iron lung or on a gurney, there isn't much action.)
I didn't expect The Sessions to be family friendly, but was surprised that it's so sexually explicit, both visually and in the way the characters discuss sex. (Think very soft-core porn crossed with readings from a biology textbook.) The sex scenes don't just hint at what's going on –-- Cheryl is often totally naked (at nearly 50, Hunt looks amazingly young), and she and Mark carry on uncensored conversations about what they'll be doing and how they'll be doing it. But for all this frankness and nudity, The Sessions never feels titillating or voyeuristic; we feel as if we're sharing in the experience, not peering at it through a window.
And again, there is Hawkes's stellar performance. He plays Mark with his usual quiet intensity and nails the role in every way, from his manchildish perspective on sex to his limp, contorted body. Hawkes also plays up Mark's self-effacing sense of humor, but doesn't let us forget that the humor is a defense mechanism; at heart, Mark is a sad, romantic poet, sometimes naïve and often frustrated. (Hawkes is such a wonderful actor that it's a shame he toiled away in bit parts and minor roles for decades. His work over the past few years has been outstanding.)
Hunt also turns in her usual reliable and polished work; I say "reliable and polished" because it's hard to be truly memorable when playing opposite a character like Mark (and an actor like Hawkes). To her immense credit, she isn't shy about appearing nude, which gives much of the film a more realistic and intimate feel. My only complaint is her uneven Boston accent. Although she mimics the real Cheryl's speech, I found the accent distracting and thought the character would have been just as effective without it.
Macy is, well, Macy. He's among the elite tier of actors who can do no wrong no matter the role, and his jaded, deadpan Father Brendan is the source of much of the film's comic relief. Often as not, the weary priest says all he needs to say with a furrowed brow and an eyeroll.
The Sessions won an Audience Award and Special Jury Prize for ensemble acting at Sundance; see it, and you won't wonder why. I can't say enough great things about this terrifically funny and deeply moving film, one of my favorites of the year and a shoo-in for my annual top ten list. Don't miss it.