aGLIFF Polari Review: Fourplay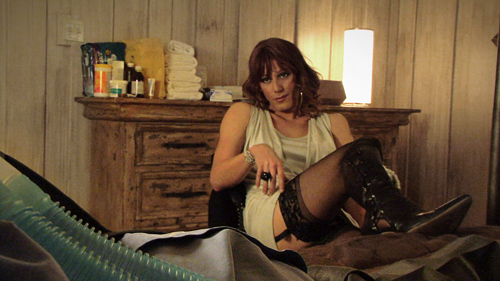 Kyle Henry's movie Fourplay was among the most anticipated films of aGLIFF Polari, and with good reason: It promised to be the sort of sex comedy that aGLIFF Polari audiences have adored in years past, and has strong hometown connections. One segment of the movie, Fourplay: San Francisco, screened at aGLIFF in 2010 as a short film.
Does Fourplay deliver on its promises? It played to a large and often wildly enthusiastic audience at the Paramount on Friday night; based on the audience's reaction, I'd say Fourplay does deliver, although I wasn't quite as impressed as many in the crowd were.
A compilation of four sexually oriented shorts set in four cities (Skokie, Austin, Tampa and San Francisco), Fourplay plays sexual intimacy mostly for laughs, although the movie does have some darker moments. The sexual encounters are as varied as the cities where they occur, from a woman's dogsitting adventure in Skokie to a public restroom orgy in Tampa. Fourplay is nothing if not sexually adventurous, which makes for a very interesting (if sometimes farfetched) examination of human sexuality.
In the first short, Skokie, closeted lesbian Marcy (Amy Jean Johnson), pines for Gail (Sara Sevigny), the wife of Marcy's pastor, Roger (Paul Dunckel). Marcy knows Gail is beyond her reach, but at least she has the opportunity to watch the couple's dog, Myra, for a weekend. The dog is a petsitter's nightmare at first, but soon develops, shall we say, an unexpected relationship with Marcy. I won't reveal the nature of this relationship, except to say it's very much in keeping with Fourplay's overall theme.
I found Skokie amusing, if almost unbelievable. Yes, Marcy and Myra's relationship could happen, but would it happen under the circumstances set forth in the film? Probably not, but it's still a hoot to watch. And Johnson and Sevigny are terrific at conveying the pain of being unable to pursue their forbidden passions.
The second short, Austin, is a much darker story about a young couple's somewhat shocking sexual compromise. Lily (Danielle Rene) and her boyfriend Kai (Atticus Rowe) plan a night of sex, but hooking up at Lily's house is impossible because Lily's sister and sick nephew are staying there. On a long walk, they discuss their future. Should they get married and have a family? The sequence that follows probably is a common fantasy, and it's well portrayed in Austin.
Austin is a captivating short, albeit completely different in tone from Fourplay's other segments. It's grittier and grimier, a noir-ish take on the lengths a couple will go to keep their sex lives interesting.
Next up is Tampa, by far the film's raunchiest and least inhibited story. (How raunchy? Most of it takes place in a public restroom -– that's how raunchy.) After dining at a mall food court, Luis (Jose Villarreal) heads for the men's room for a quickie. Unable to find a suitable partner at first, he lets his imagination run wild, envisioning a ridiculous orgy that that plays to every homophobic stereotype of gay promiscuity. (This is the sort of stuff the Westboro Baptist Church hatemongers warn us about.)
Although Tampa seemed to be the crowd favorite, I found it more off-putting than entertaining. I have no problem with graphic sexuality, but in this case the sexual escapades border on being so crude that they aren't terribly funny. I appreciated Tampa's over-the-top farcical vibe, but I would have appreciated it more if the proceedings were a little more subtle and less, well, messy.
Fourplay wraps up with my favorite short, San Francisco (pictured above). In this story, cross-dressing sex worker Aliya (Paul Soileau, aka Austin drag queen Rebecca Havemeyer) encounters an unusual client: quadriplegic Tom (Gary Chason), whose wife, Anne (Cyndi Williams) arranged for Aliya's services. Aliya finds the encounter very challenging at first; unable to speak, Tom communicates only by blinking his eyes to answer yes-or-no questions. After some awkward misunderstandings, the two become more comfortable as Aliya explores unique ways to satisfy Tom -- and Aliya.
San Francisco is by far the best of part of Fourplay, a quiet and captivating look at a unique sexual bonding between two very unlikely partners. There is a surprising amount of character development, much of it hinting at painful, tragic back stories for Aliya and Tom. Soileau and Chason are terrific -- especially Chason, who speaks not a word but conveys an avalanche of emotion with his blinking eyes and very subtle changes in facial expression. And PJ Raval's cinematography is at its best in this short, bathing Aliya and Tom in a sensuous and yet somber glow.
On the whole, I enjoyed Fourplay. All four parts are watchable and often intriguing, but I do wish each segment focused less on the physicality of sex and more on its psychology. (San Francisco came closest to finding the right balance.) Also, except in San Francisco, the characters would be much more interesting with more backstory. It's hard to create fully realized characters in a short film, but Fourplay could have sacrificed a little sex for a little character development; this would have made the characters more relatable and sympathetic, and thus the sex more impassioned and sensual.
That said, I'd recommend Fourplay to open-minded viewers looking for a likably bawdy sex comedy. Henry's latest film is imperfect, but I credit it for pushing the sexual envelope in interesting and often very funny ways.
Austin connections: Henry is a former Austinite, and parts of the film were shot here with local cast and crew.