Fantastic Fest Review: Black Out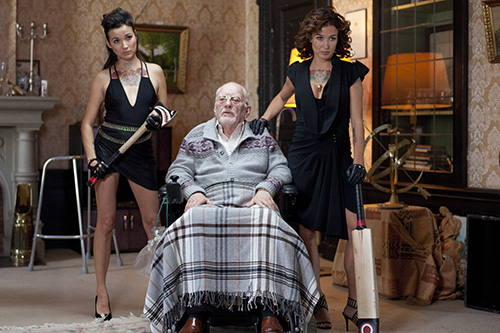 Films centering around a protagonist attempting to fill in the blanks of his/her past run the gamut from The Hangover to Memento, and in my opinion have been quite overdone. However, Dutch fillmmaker Aren Toonen delivers a fresh take with his comedic crime drama, Black Out. Toonen effectively weaves wickedly funny humor into a crime thriller that keeps viewers engaged.
Jos Vreeswijk (Raymond Thiry) wakes up with more than a hangover, as he finds a dead body in his bed the day before his wedding. Despite the realization that he has no memory of the last two to three days, Jos assesses and addresses his situation very quickly, as he is no stranger to dealing with a crime scene. Through the use of voiceover narration by Jos, we learn that 10 years ago he was a shakedown henchman for drug dealers, but he gave up a life of crime and his coke connoisseur ex-wife Coca Inez (Rene Fokker) for a career as a waiter and lovely fiancee Caroline (Kim van Kooten).
Jos must locate both the wedding rings and ten kilos of coke that have gone missing, while dodging a colorful and violent assortment of criminals including former Russian ballet dancer and kingpin Vlad "The Gay Basher" (Simon Armstrong), his rival Charles aka "Grandpa" (Edmond Classen), and the lovely and destructive duo of Charity (Katja Schuurman) and Petra (Birgit Schuurman).
As if dealing with ex-cohorts isn't enough, Jos's situation becomes even more complicated as a pet groomer and his buddy in debt to Grandpa throw a wrench into Jos's attempts to extricate himself and get to the altar. The bumbling pair steal his car and a stash of coke stolen from another drug dealer, momma's boy Gianni aka "Cowboy," to replace the original stash both wanted by Grandpa and Vlad ... and then there's ex-nemesis police officer Andre (Alex Van Warmerdam) to deal with as well as Jos's soon-to-be father-in-law.
Toonen's direction and script with co-writer Melle Runderkamp pay homage to Quentin Tarantino and Guy Ritchie without being too derivative, taking only the best influences from the film's predecessors. Although a conversation between Charity and Petra about how women are never crime bosses can be compared to Pulp Fiction's "Royale with cheese" exchange, the discussion comes across as more authentic. Thanks to the edting talents of Marc Echtold and Brian Ent, the dark narrative of Black Out is dynamic and well paced, without taking the audience down the rabbit hole with subplots and tangential conversations. The art direction and cinematography of Black Out is painted from a stylish dark palette, well suited and worthy of a film noir moniker despite its alter ego as a slick comedy.
Black Out is well cast, with Thiry portraying Jos in such a manner that viewers can't help but become invested in the character's plight. Classen does well enough as Grandpa, but it is Simon Armstrong who steals scenes left and right. Armstrong's flamboyant performance is reminiscent of Alan Rickman as Hans Gruber in Die Hard, but even more humorous as the ruthless kingpin runs his bowling alley along with his drug ring. The supporting cast members were strong as well, and often underused, including the lovely and talented Kim van Kooten as Caroline.
Black Out is on my top three list for Fantastic Fest 2012, and I strongly encourage catching this provocatively dark comedy that puts together the pieces of a criminal puzzle so well.