Lone Star Cinema: Places in the Heart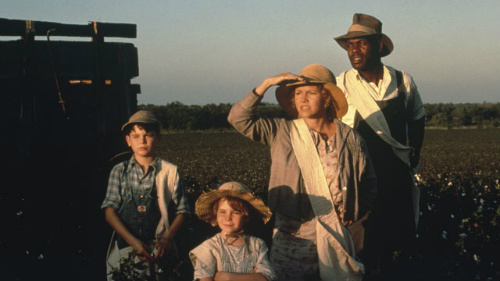 Opening to the hymn "Blessed Assurance" and closing to "In the Garden," writer/director Robert Benton sets Places in the Heart firmly in the Bible Belt. The 1984 movie is based, and was filmed in, Benton's hometown of Waxahachie, Texas. The year is 1935 and the small town is muddling through the Depression.
Sally Field centers the film as Edna Spalding, a mother trying to hold on to her home after her sheriff husband is unexpectedly killed. In the first few minutes of the film, he is accidentally shot by a drunk young man on the train tracks. The young man is black in the Jim Crow-era South, and the repercussions of his actions are horrific. Benton chooses to parallel the deaths and funerals of the two men so we can compare, contrast and think on them.
Edna seems uncertain of her identity, role and future now that her husband is gone. The day of her husband's funeral, young hobo Moze (Danny Glover) asks Edna for work and suggests a possible way for her to make money: Plant cotton in her fields. With the help of Moze, her blind tenant Mr. Will (John Malkovich), and her young kids Frank and Possum (Texans Yankton Hatten and Gennie James), Edna does just that.
Edna also has the support of her sister Margaret (Lindsay Crouse, House of Games, The Insider), whose husband Wayne (Ed Harris) is having an affair with schoolteacher/family friend Viola (Amy Madigan). The longing glances Viola shoots Wayne's direction while she dances with her hubby Buddy (Terry O'Quinn with hair!) practically smoulder. Although they had met previously, Harris and Madigan married soon after making this film.
While the Margaret/Wayne/Viola story is slightly weaker than Edna's, it provides a nice counterbalance; otherwise, Edna's story might veer into melodrama. There are many themes at work in Places in the Heart: forgiveness, self-worth, how one can create their own family of sorts, infidelity, racism, working with the land ... and yet Benton's film isn't overwrought or overly complicated. Details such as a paint-scratched door, small flower earrings Margaret wears to a dance, and the rabbit foot that Moze carries for luck all serve to establish this film in a certain place and time.
The movie has its faults -- the largest one being that Moze tends towards a Magical Negro role. We're not told much of anything about his background story. He just shows up one day and ends up advising Edna. We see he's superstitious, he knows about planting cotton and he gets on well with Edna, Mr. Will and the kids. Danny Glover adds heft and soul to the role, but the character never has as much depth as he should (the fault of the writer, not the actor).
Sally Field won an Oscar for her performance as Edna (this is the year she said, "You like me!" in her acceptance speech). I can't really imagine another actress in the role. Field gives Edna a tenacity mixed with uncertainty. Hers is just one of the many strong perfomances in the film. Even the kids are great.
I feel a touch of sentimentality towards Places in the Heart. Characters like Edna and Margaret remind me of my own North Texas relatives who lived during this era. Also, we were shown this movie during youth group at my small service-oriented Presbyterian church when I was a kid. The powerful ending scene is hard to forget and has stuck with me since my first viewing.
Texas connections: Doc Watson, Merle Watson and the Texas Playboys are thanked in the end credits, and "Cotton Eyed Joe" is a musical theme in the film's score. Also in the end credits: "We wish to thank the people of Waxahachie and Ellis County, Texas for their generous support and cooperation." This makes me think that Places in the Heart used local extras for the group scenes.