Review: Robot and Frank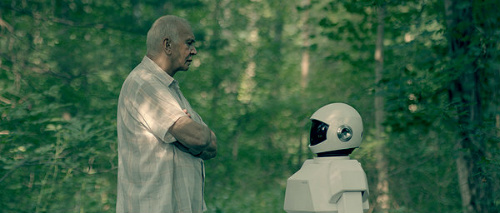 In the near future, elderly former jewel thief Frank (Frank Langella, Dave and Frost/Nixon) lives on his own in Cold Spring, New York, until one of his kids provides him with a VGC-60L health-care aide. This is the premise for Robot & Frank, a sweet sci-fi comedy from new director Jake Schreier and screenwriter Christopher D. Ford. There are hidden layers to this film. Unlike other preview screenings I've attended, no one clapped at the end of this one; I assume it's because most of us were stunned at the depth of emotion in a movie based on what seems at first a silly concept.
Frank is a cantankerous man, suffering through the early stages of Alzheimer's, whose usual routine is to walk to the dying library to flirt with librarian Jennifer (Susan Sarandon) and check out duct-taped hardbacks, then head to a beauty store that was once a favorite restaurant and pocket random items. Once a week, his son Hunter (James Marsden, X-Men) drives a 10-hour round trip to visit his dad and worry over him. Daughter Madison (Liv Tyler, Lord of the Rings) checks in with Frank from her travels afar through Skype-like conversations. Hunter decides that the best way to care for his dad is to give him a caretaker robot (voiced by Peter Sarsgaard).
After his initial dislike of the machine, Frank decides there are some benefits to owning a robot -- especially once he decides to steal something from the library, now under renovation by a nonprofit run by nouveau hipster Jake (Jeremy Strong, who I recognized from his short stint as on The Good Wife). Jake and Frank don't exactly hit it off; Jake's organization is removing the books so that people will come to the library for the "experience."
The something Robot helps Frank steal is a collectable print of Don Quixote, which is certainly a symbolic move. Just as Quixote has a sidekick on his doomed quest, Frank is tilting at windmills of his own with Robot by his side. Memory is a striking theme throughout Robot & Frank. Frank is barely dealing with the loss of his own memories, and at one point Robot threatens that if Frank kicks it to the curb, it will be taken to the factory and its memory will be erased. Later it confesses to Frank, "I don't care if my memory is erased or not."
The electronica score by the director's band, Francis and the Lights, as well as the tech shown in the film (which seems very much like something that might show up in the next 5-10 years), serve well to create the "near future" setting. In the shots set in the intimacy of Frank's home and the open wooded exteriors, we see the trust growing between the man and the machine. Langella is amazingly earnest in his portrayal of this crotchety and cunning man who grows to care about his caretaker robot. Indeed, practically everyone delivers a winning performance in this movie, even the robot.
While watching Robot & Frank, the word revelatory came to mind. It's not just the surprise plot twist near the end of the movie (I always appreciate when these are done well and are truly unexpected; don't worry, I won't say anything beyond that). It's the film as a whole, which so caringly creates this world and lets us witness the changes in Frank.