Film on Tap: What's Brewing in Austin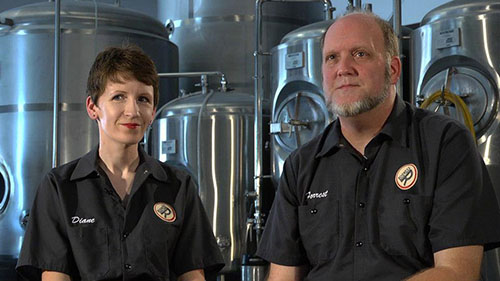 Film on Tap is a column about the many ways that beer (or sometimes booze) and cinema intersect in Austin.
Growth of the Texas craft beer industry continues this summer with more breweries and brewpubs coming online or in the planning stage. The Texas Craft Brewers Guild recently released the 2012 annual update of the "Economic Impact of the Texas Craft Brewing Industry." Commissioned by the guild, this study estimates "the size and economic impact of locally owned breweries operating within the state of Texas, specifically focusing on current and potential output, job generation, and wages." The 78 actively licensed small manufacturers of craft beer in Texas -- up from 52 in 2010 -- are estimated to have had an economic impact of $608 million on the state in 2011. The study projects that the industry's economic impact "could reach $5.6 billion annually in less than a decade should its development resemble that of the Texas wine industry."
As reported early this year in January's Film on Tap, this boom in the Texas craft industry has caught the attention of several documentary film projects including Crafting A Nation and Brewed in Austin - The Zymurgence of Craft Beer in Central Texas. Produced and directed by Chris Erlon of sound post-production studio Digital Domain of Austin (Friday Night Lights), Brewed in Austin tells the story of the boom and bust of Austin craft brewpubs and brewpubs in the 90s, as well as the recent emergence of new local breweries and the impact of recent legal action and legislative efforts on the industry. Rather than use narration, Erlon is relying on several brewers and key players in the local craft beer industry including Diane and Forrest Rogness of Rogness Brewing (pictured above), Chip McElroy of Live Oak Brewing Company, and Christine Celis, who recently gained back the intellectual property and rights to her father and brewmaster Pierre Celis' legacy of Celis Brewing.
Find out more about Brewed in Austin - The Zymurgence of Craft Beer as well as other boozy movie news after the jump:
Brewed in Austin will also include details on the brewing process including what ingredients go into beer. Due to the amount of topics covered in this project, Erlon plans on releasing the film as a two-part series. I watched an early cut of the first 70 minutes, focusing on the history and current beer climate, and was quite impressed with the research Erlon has obviously put into this project as well as the concise history captured in his footage. Craft beer enthusiasts should thoroughly enjoy this informative documentary -- check back for news on this upcoming series.
Comedian Owen Egerton continues his "Best of..." Series" at Alamo Ritz on Thursday, August 30 at 7 pm with "Best of Alcohol," featuring films that explore classic cocktails including the Manhattan and Gin Fizz, as well as Black Russians and Buttery Nipples and straight up rye whiskey. Egerton will share the history of alcohol from James Bond's martini to Hemingway's absinthe as moviegoers "witness the best/worst of schoolroom scare films, sing along to rambunctious drinking songs, and soak in classic drinking scenes from the film archives." The evening will feature drink specials as well as live music from Southpaw Jones and special guests, including some of Austin's finest mixologists.
The Denver-based filmmakers behind Crafting a Nation are returning to Austin next week for final shots of local brewers. The team has been all over the United States to cover thriving beer scenes, including Ashville, North Carolina and St. Louis, Missouri. Webisodes on the site portray some of the stories they've come across in their travels. Watch an episode featuring Mark from San Antonio's Ranger Creek Brewing & Distilling talking about the production of their Texas bourbon below.
For their last production trip, the filmmakers are stopping first in Minneapolis and then on to Austin. Here's the reason behind their side trip from producer Courtney Cobb:
"After we learned about all of the prehistoric laws in Texas this last January, we worked really hard to find a state that was once burdened with similar laws. Minnesota just recently was able to pass a law that allowed for breweries to have tap rooms. And with no surprise, the tap room sales are booming. We will then be headed back to Texas to check in with some of our previous interviewees which includes Scott Metzger of Freetail Brewing Company and Davis Tucker of NXNW...focusing on the progress that has been made."
Davis Tucker is featured in both Brewed in Austin and Crafting a Nation due to his role in the Texas craft beer industry over the last twenty-five years. As only the second producer of craft beer in Texas, he founded Pecan Street Lager and True Bock. In 1987, he worked with Billy Forrester of Waterloo Brewing and others to introduce legislation to allow brew pubs in Texas. Once brewpubs became legal in 1993, he opened Coppertank Brewing Company in downtown Austin. After selling off his shares of Coppertank just before a slump discussed in Brewed in Austin, Tucker opened North by Northwest Restaurant and Brewery in 1999.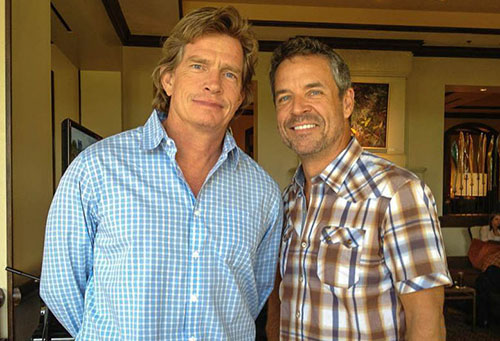 Tucker grew up in Harlingen, Texas, where he attended high school with Tom Church (seen above). I joined Church and Tucker along with Austin Film Society Executive Director Rebecca Campbell for a chat after our recent interview with Church while on press junket for Killer Joe. Church entertained as he related his experiences of working with Marlon Brando, interacting with the Canadian mafia, and thoughts on the film incentive programs across the United States and in Texas. Church even offered his own marketing ideas for a craft beer -- "If you don't like it, I dare you to come back and throw it in my face!" -- and reminisced about introducing Ann Richards at the Texas Film Hall of Fame.
[Photo credit: Diane and Forrest Rogness of Rogness Brewing, by Chris Erlon, used with permission; Thomas Haden Church and Davis Tucker, by Debbie Cerda, all rights reserved]
[Full disclosure: Debbie is currently employed part-time by NXNW Restaurant & Brewery, and as a member of the Texas Craft Brewers Guild and Brewers Association, she supports as many local breweries and brewpubs as her liver and pocketbook allows.]