'Fourplay' Among aGLIFF 2012 Headliners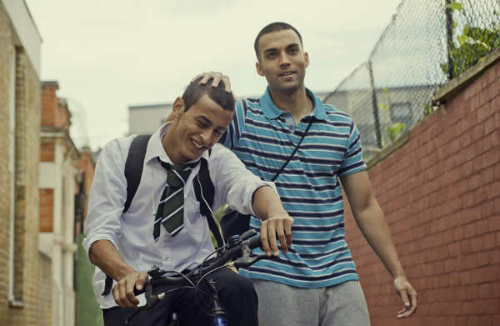 On Wednesday, the Austin Gay and Lesbian International Film Festival (aGLIFF) announced four films that will headline the October fest, now in its 25th year. The "centerpiece" will be former Austinite Kyle Henry's Fourplay, filmed with many local cast and crew members. Henry's work is a compilation of shorts, each a tale of sexual intimacy set in one of four cities (San Francisco, Tampa, Austin and Skokie, according to the film's official site). The San Francisco short screened at aGLIFF 2010; the Tampa short premiered at Cannes 2011 and later screened at Sundance (Debbie's post, Don's review).
The opening-night film will be Cloudburst, a drama about a lesbian couple (Olympia Dukakis and Brenda Fricker) who escape their nursing home in the States in hopes of getting hitched in Canada. The fest will close with My Brother the Devil (pictured above). Sally El Hosaini's full-length debut depicts two brothers dealing with issues of identity, prejudice and sexuality in urban London. (trailer)
Call Me Kuchu, about the last year in the life of activist David Kato, will be aGLIFF25's documentary spotlight feature. Kato was the first openly gay man in Uganda, and first-time filmmakers Katherine Fairfax Wright and Malika Zouhali-Worrall follow him as he speaks out and works against homophobic laws of the country, particularly the infamous Anti-Homosexuality Bill. Here's the trailer:
aGLIFF's theme for this year's fest is "A Place for Us," and 96 films of various genres are slated to screen October 3-7 in four downtown venues: Alamo Drafthouse Ritz, Violet Crown Cinema, the Paramount Theatre and Stateside. The festival schedule will also include parties, panels and live performances.
Curran Nault, aGLIFF's new Program Director, commented, "The message of aGLIFF25 is that everyone is welcomed, regardless of sexual orientation or cinematic predilection. aGLIFF25 celebrates the notion of coming together in the spirit of camaraderie, community awareness and cinematic fun."