Home Video Review: Goats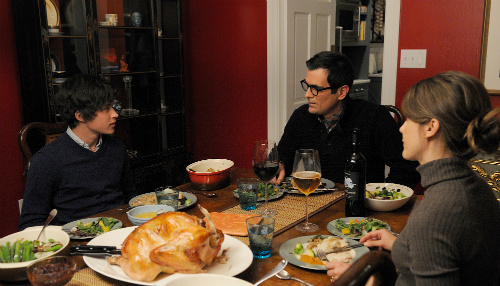 [Editor's Note: Goats was originally scheduled to open in Austin theaters in August, but the local theatrical release was canceled shortly beforehand. As a result, we held Elizabeth's review until the movie's home video release date, which is today. You can find this movie on DVD, Blu-ray, Amazon Instant Video and Netflix Watch Instantly.]
In theory, Goats seems like your typical coming-of-age story based at a boys' school. But really, Christopher Neil's directorial debut, based on a screenplay and novel by Mark Poirier, is slightly more than that tired premise. Fourteen-year-old Ellis (Graham Phillips, who plays Zach Florrick on one of my current favorite TV dramas, The Good Wife, and looks years past 14) heads to an East Coast prep school, leaving his hippie/trust-fund-baby mom (Vera Farmiga) to her own devices in Arizona with only the groundskeeper "Goat Man" (David Duchovny) to watch out for her.
Goat Man is something of a spiritual guide to Ellis. He provides Ellis with plenty of weed and serves as a makeshift father figure since Ellis' dad has been out of the picture for years. This new prep school is his dad Frank's alma mater, however, and Ellis keeps finding hints of his dad's times there. Frank (Modern Family's Ty Burrell) invites him to his home in D.C. for Thanksgiving, and assumptions Ellis had made begin to unravel.
Along with dealing with his family drama, Ellis is stuck with a troubled roommate (Nicholas Lobue, TV's Parenthood), blackmailed by a coach (Anthony Anderson) to join the track team, and crushes on an older female townie (Dakota Johnson, The Social Network) who works in the school cafeteria. There is a lot going on plot-wise in Goats; while we mainly follow Ellis' school year, we are also shown glimpses of how the kid's being away is affecting Goat Man.
Phillips plays Ellis as jaded about some things and naively optimistic about others. In a discussion with his townie crush about her favorite book To Kill A Mockingbird, she asks, "You think there are people like Atticus Finch in real life?" and he replies, "I hope so." A mellow indie-poppish score by Jason Schwartzman (yes, that Jason Schwartzman) and Woody Jackson nicely complements the film. In fact, their music is one of my favorite things about the movie.
Goats moves at a somewhat leisurely pace throughout, with a bizarre plot twist in the third act. It involves goats, drugs (a major theme in this film) and a trip to Mexico. Can I believe that Ellis's character grows during the year depicted in this film? Yes. But the character growth (if any) by Goat Man is far more limited and less convincing. Maybe that's how it's meant to be.
I also wish the female characters in the film depended less on stereotypes. There's the clueless hippie mom experimenting with new-age fads, the slut neighbor, the unattainable crush ... all types we've seen multiple times before. Vera Farmiga does her best with the role she was given, and attempts to add something new and different to her character, but the screenplay limits her. Keri Russell's character is the closest we get to multi-dimensional (as far as the female characters go), and she's only in about 10 minutes of the film.
Still, Goats drew me in. Given the music, the New Mexico and Arizona scenery, the supporting cast, a non-annoying teen protagonist -- this film is far more likeable than I expected.
Austin connection: Dakota Johnson, daughter of Melanie Griffith and Don Johnson, was born in Austin. Random 1989 memory alert! I recall a discussion with an elementary school friend about Melanie Griffith having her baby in town. The girl's family friend was in the same maternity ward with the actress at the time.