Review: Klown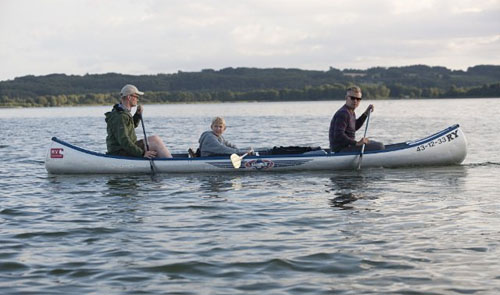 Even though Drafthouse Films, the film distribution arm of Alamo Drafthouse Cinemas that started here in Austin, is brand new, they've certainly made an indelible mark on the world of independent film. They haven't distributed many films, but it's easy to see that you can't lump their films into one genre. Drafthouse Films just releases films they think should be seen, from an Academy-Award-nominated foreign drama to a downright silly film based on Dance Dance Revolution battles. This time, the folks over at Drafthouse Films bring moviegoers Klown (Klovn: The Movie), a film based on the Danish sitcom of the same name.
The sitcom was filmed in a similar style to The Office and has a pretty decent sized following. The movie follows the sitcom's characters, Frank (Frank Hvam) and Casper (Casper Christensen), as they go off on a canoeing and camping trip where Frank can prove to his girlfriend that he's ready to be a father, and happily married Casper can find some women to sleep with.
What sounds like an innocent road-trip comedy is anything but. Klown is incredibly vulgar and may not be for everybody, but it is great and nothing less should be expected from Drafthouse Films.
The movie is not without its issues, though. Based on such a popular sitcom, there's little to no character development and an assumption that you're familiar with the characters involved. Then there's the issue of whether or not you take offense to the mistreatment of a young child. All of that aside, the film is incredibly funny and works on many different levels.
Hvam plays Frank, the bumbling idiot who can do no right by anyone, to perfection. He's got one of the best blank stares you'll see in a while and when he's trying to work things out you can see the wheels spinning, but nothing is moving forward. His kind of dumb proceeds with instincts that only serve to get him in worse and worse trouble. Christensen's character Casper, for all of his charm isn't immune to some trouble. His way of getting out of trouble serves as a temporary solution on the trip before it comes back to get him in the end (literally, you'll know when it happens).
Thankfully, right as the film is about to get a little tired, it takes a wonderful turn towards the end and has all the charms of a regular and only mildly vulgar American road-trip comedy.
Drafthouse Films certainly has a memorable one on their hands with Klown. When it debuted at Fantastic Fest last year, the reactions to that first screening were some of the most outrageous seen at the festival. It's no surprise that the movie's garnered the type of attention that it has. It may or may not be your brand of comedy, but it's hard to argue that there's something special here, and at Drafthouse Films.
Klown opens on Friday here in Austin at Alamo Drafthouse (all theaters except Ritz), as well as in Los Angeles (The Cinefamily) and New York (Village East). The movie will also be available Friday on VOD.