Austin Film Producers Receive Sundance Institute Fellowships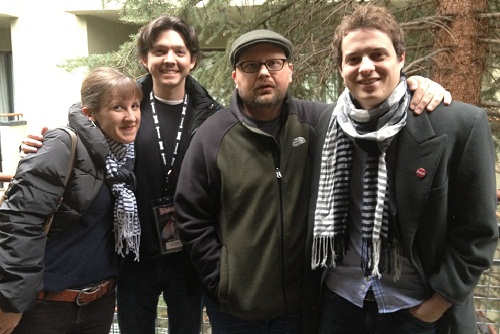 Founded by actor and director Robert Redford in 1981, the nonprofit organization Sundance Institute is not only recognized internationally for its annual film festival in Park City, Utah, but also for its artistic development programs for directors, screenwriters, producers, film composers, playwrights and theatre artists. The organization has supported critically acclaimed film projects including Born into Brothels, Amreeka, An Inconvenient Truth, Angels in America and many more.
Eleven projects were selected for the Sundance Creative Producing Labs this year, held from July 30 - August 3. The selected producers receive creative and strategic support through the year as well as fellowships for direct funding of development and production. Two of the Fellows selected are in Austin, Texas -- producer Kelly Williams (Hellion, Cinema Six), former Austin Film Festival Program Director and Director of Programming of Forth Worth's Lone Star International Film Festival; and producer/director/cinematographer PJ Raval (Trouble the Water, Trinidad). Find out more after the jump.
Award-winning filmmaker PJ Raval has been selected as a Producing Fellow for the Documentary Film Creative Producing Lab for his Untitled Gay Retiree Project, which focuses on the adventures and challenges faced by three LGBTQ seniors and retirees. Raval will work with award-winning advisors to hone the craft of producing documentaries, and participate in workshops on financing, production and creative distribution for documentary films.
As a cinematographer, Raval's work has been showcased at both Sundance and Cannes and earned him awards including the ASC Charles B. Lang Jr. Heritage Award and the Haskell Wexler Award for Best Cinematography. Raval shot the Trouble the Water documentary, which portrayed a first-hand account of the devastation of Hurricane Katrina and the subsequent floods. Trouble the Water was nominated for a 2009 Academy Award and won the Grand Jury Prize for Best Documentary at the 2008 Sundance Film Festival. Raval was named one of Filmmaker Magazine's "25 New Faces of Independent Film 2006."
Kelly Williams has been selected for a fellowship for the the Feature Film Creative Producing Lab. Williams produced writer/director Kat Candler's short film Hellion, which premiered at Sundance this year. Now he and Candler are expanding the short into a feature about 13-year old delinquent Jacob, who must take extreme and destructive actions to bring his brother home after being responsible for his departure. Williams will participate in a five-day lab with a group of creative advisors to develop key skills needed in all stages of film production.
One of Williams' early producer credits is for Scott Rice's 2003 short film Perils in Nude Modeling, which screened at over 100 festivals and was a Student Academy Award nominee. In 2011, he produced feature films Pictures of Superheroes and Cinema Six, and he's now working on Yen Tan's movie Pit Stop and Candler's latest short, Black Metal.
Williams and Candler took a quick break from their hard work on Black Metal to give me their reactions to the announcement.
Kat Candler: I'm just incredibly proud of my friend and producer Kelly Williams getting in. It's been a fun ride working together this last year. And I love that Hellion was our first project together and its success has been so sweet. We're excited to open up that Hellion world to create a bigger piece with the help of the Sundance Institute. The festival, the institute, they've all been so amazing and kind to us and we're forever grateful for their support.
Kelly Williams: I am very honored that the Sundance Institute sees the potential in Hellion to get behind it and has the faith in Kat and I to see it through. I am really looking forward to the experience the Lab brings and the opportunity to workshop the project at this stage and on this level. I think there is a new wave of filmmaking talent emerging out of Austin right now, and I'm proud to be representing, along with PJ, the Austin filmmaking community at the Creative Producing Labs.
[Photo credit: "Kat Candler, Slamdance Programmer and Doc Juror Aaron Marshall, Kelly Williams, and AFF Programmer Steven Janisse at Sundance," courtesy of Kat Candler]