Film on Tap: Summer Heat Quenchers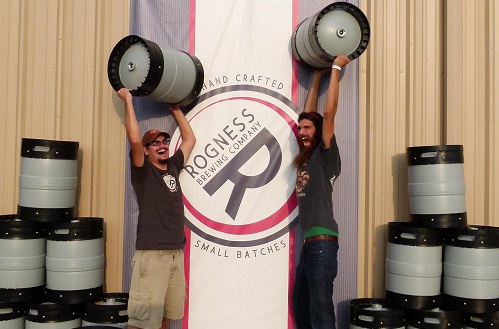 Film on Tap is a column about the many ways that beer (or sometimes booze) and cinema intersect in Austin.
After several weeks of traveling and enjoying the best craft beers on both the East and West Coasts, including the National Homebrewers Conference in Seattle, I was feeling "beered out" but still missing my favorite Texas beers.
With the onset of triple digits in Central Texas, excitement has been building around Texas craft breweries introducing lesser known styles to the local market. Well-established and newly certified organic Jester King Craft Brewery may have opened the barn door to low alcohol beers with their Commercial Suicide English style dark style (3% ABV) and Le Petit Prince Farmhouse Table beer (2.9%), but Austin Beerworks has blasted that door off its hinges with last week's release of Einhorn, a rather approachable Berliner Weisse (3.5%). Einhorn's tartness is just enough to ensure its place amongst the top session beers in Texas. Also on that list is Hans Pils from Real Ale Brewing which just celebrated their sixteenth anniversary two weeks ago.
The newest kid on the block to watch is Rogness Brewing Company, located a stone's throw from the old Celis Brewery in northeast Austin. Rogness beers have been slowly entering the local scene, including at an Alamo Drafthouse South Lamar which reportedly offers Rook, their smoky Scotch ale. At their grand opening party last weekend Rogness Brewing served up several selections from their portfolio including Vinton, a sessionable blonde ale (5.3%), as well as the aptly named Beardy Guard, a Biere de Garde (5.2% ABV) which is best described as a French saison. Keep an eye out at Flix Brewhouse and Alamo Drafthouse for Rogness Brewing Company's beers, and you might also run into Rogness' social media coordinator and University of Texas at Austin RTF graduate Jon Airheart -- seen above in Say Anything pose along with former Independence Brewing marketing guru Adam Gonzales.
The biggest news in local craft beer community this month was the acquisition of the intellectual property including recipes and labels by Christine Celis, daughter of Belgian brewer Pierre Celis, in order to re-establish the Celis Brewery in Austin after its closure a decade ago. How Celis fares amongst the growing Texas craft beer industry will be interesting to follow.
Texas distillery Tito's Handmade Vodka just announced their involvement in an upcoming film set in Texas (but filmed in Louisiana), The Hot Flashes, starring Brooke Shields, Wanda Sykes, Daryl Hannah, Virginia Madsen and Camryn Manheim. This dramedy focuses on an unlikely basketball team of under-appreciated middle-aged women who raise money for breast cancer prevention. Sparks fly as the women go to comic extremes to prove themselves on and off the court, and gain a new lease on life.
The screenplay is written by Brad Hennig, who grew up in Texas, and based the fictional script on real-live Texas experiences. The film is directed by Susan Seidelman (Smithereens, Desperately Seeking Susan), who also directed the pilot for the TV series Sex and the City. Over the years Tito's Vodka has sponsored several film-related events -- my personal favorite was the Texas Motion Picture Alliance (TXMPA) Spaghetti Western fundraiser where guests enjoyed Texas Lemonade concocted from Sweet Leaf lemonade and Tito's vodka.
Tickets are still available for next week's Lagunitas Beer Dinner: Boogie Nights on July 17, which was featured in June 2012 edition of Film on Tap. Note that the ticketing and payment process is different with this event. The ticket price on the event page is solely for admission to the theater. Attendees will be charged an additional amount for the beer and food portion of the event at the show itself, which does not include tax and gratuity.
For this month's Film on Tap, I had a brief conversation about film around the Black Star Co-op's communal barninsula with Black Star Co-op Brewmaster Jeff Young, who was featured in Mike Mann's short documentary film Brewed. The conversation sparked a heated discussion between former Black Star Co-op director Jake Carter with current director Erin O'Bryant peppering with her own favorite film and drink experiences. Here's what transpired before the big brewhaha between Carter and Young:
What do you like to drink when you're watching a movie?
Jeff Young: When I'm at home watching a movie, I generally drink whiskey -- I hit the hard sh*t. I only drink beer when watching football.
What is your favorite beer-themed movie?
Young: Super Troopers -- at the end they have to deliver a keg ...
Erin O'Bryant: Old School...
Jake Carter: Beer Fest!
Jeff Young: Beer Fest was no Super Troopers, although I'll say it's a favorite drugs and beer movie.
Erin O'Bryant:(interjects) Animal House...
Jeff O'Bryant: Is this your interview or mine? There's only room for one -- Beer Fest is way worse than Super Troopers, which is a masterpiece. They are just riding their own coattails, on a movie that is infinitely quotable.
Erin O'Bryant: I reminisce about seeing Ishtar paired with a Mediterranean dinner at the Alamo Drafthouse, which also introduced me to a new winery, Bonny Doon.
You can see a more serious side of Young in Brewed below:
Brewed from Mike Mann on Vimeo.
[Photo credit: "Say Anything at Rogness with Jon Airheart and Gonzbot", courtesy of Jon Airheart]
[Full disclosure: Debbie is currently employed part-time by NXNW Restaurant & Brewery, and as a member of the Texas Craft Brewers Guild and Brewers Association, she supports as many local breweries and brewpubs as her liver allows. As an award-winning homebrewer, she's an avid member of the Austin Zealots and serves on the American Homebrewers Association Governing Committee.]