'3 References' Production Diary: Days 12-14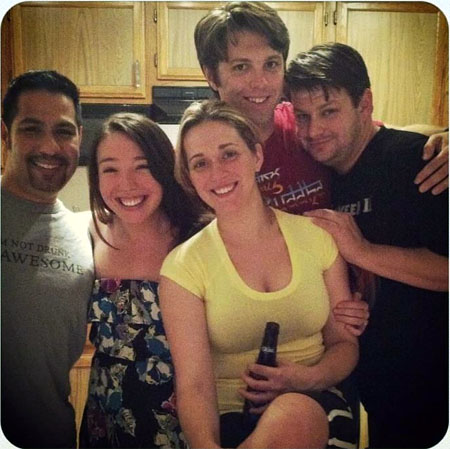 James Christopher is directing the new Twitchy Dolphin Flix film 3 References. Check Slackerwood for his updates as the shooting continues.
There is really no better place to be a (true) indie filmmaker than Austin, Texas. Period. End of story. It's a community that opens its doors in support for indie film, making it possible for filmmakers to really focus on getting everything right for their movies. In the spirit of that coordination, a big thank you goes out to Dirty Bill's on 6th and the Wurst Tex food truck that both let us shoot in and around their locations.
This was the final big weekend for 3 References. We welcomed Look at Me Again star Vanessa Vayle Perry back to the fold. Of special personal interest to me was the return to the screen of Daniel Cano, a guy I acted with way back in high school. And I'm an old guy, so that's a long time.
Vanessa and Daniel play a husband and wife who are friends with Christian Swacker's lead character Nick. The pair oozed chemistry and created the kind of charm on camera that will have folks asking for a spinoff film. In addition to all of their shots, we also saw Nick's meltdown, he and a German Shepherd going to third base and some awkward speed dating. All in a day's work for Austin's most prolific indie filmmakers.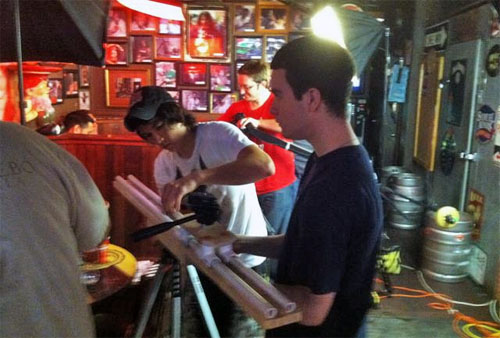 Next up is the last shoot day on June 15 when two actors from out of town get in, then the ultimate wrap party.
[Photo credit: "Daniel Cano, Vanessa Perry, Terissa Kelton, Christian Swacker and James Christopher" and "Brendan Johnson and Lee James set up at Dirty Bill's" courtesy of Twitchy Dolphin Flix.]