'3 References' Production Diary: Days 6-8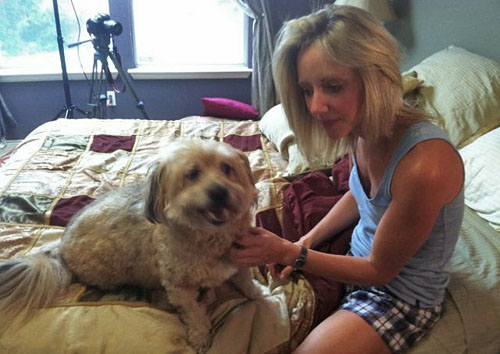 James Christopher is directing the new Twitchy Dolphin Flix film 3 References. Check Slackerwood for his updates as the shooting continues.
When you shoot on the micro level, you really have to rely on the kindness of others. You have to convince the cast and crew that it's a good idea to get involved in a project where their pay might be deferred because the project is worth it or that that they will get some degree of publicity by making the film. And you have to rely on folks opening up their homes to a film crew of 12 people, in addition to cast members, for 12 to 18 hours.
This weekend, we invaded the home of longtime Twitchy fan Anne-Marie Messineo and he awesome dog George. He quickly became a hit with the entire cast and crew. We can't thank her enough for being so cool with letting us use her living room, bedroom, kitchen and yes, shower. A 13-hour day is a long time to put up with folks tracking in and out of the house with gear and such.
The scenes were dynamic in nature and tone. On the one hand, we had some hilarious moments as a pizza delivery guy (Benjamin Jabe) is convinced he's about to end up in a scene from a Penthouse flick. On the other, we have a tender scene in which Michelle (Harper Graham) must ask would-be suitor Nick (Christian Swacker) some unanswerable questions.
On Sunday, we moved to what has to be one of the coolest locations in Austin to create a hip-looking law firm. The nonprofit Comfort The Children: International opened their doors and let us peek into their super awesome office setup. We used the office to shoot the scenes that reveal some of the pathos in Michelle's insecurity with men, mostly driven by her overprotective father (Billy Kring).
Monday began with shooting a scene in a dungeon designed for erotic torture and finished at local Austin actor Allison Wood's place overlooking downtown Austin. The cast and crew braved a location that hit 100 degrees on the thermometer but they got the shots with the usual focus, drive and sense of humor that has marked our shoots.
So, at the halfway point, the shoot is going well. We've been on schedule the entire time and the actors are really making great choices with the material. It's the best part of being a writer/director -- seeing the words come to life through an actor's interpretation. And this cast has done that in spades.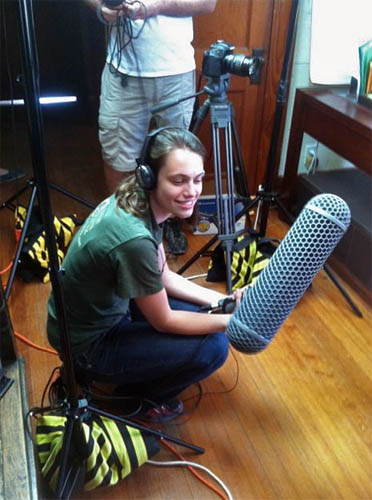 [Photo credit: "Harper Graham and George" and "Sound recordist Sacha Ryder" used courtesy of Twitchy Dolphin Flix.]