'3 References' Production Diary: Days 4-5
James Christopher is directing the new Twitchy Dolphin Flix film 3 References. Check Slackerwood for his updates as the shooting continues.
So, back on set for 3 References with two very different days of shooting. Saturday brought us some broad comedy with Sarah England, playing Donna, breaking into Christian Swacker's apartment wearing nothing but an overcoat and smile, only to find the object of her desire unwilling. It's a scene very indicative of the central theme of the movie -- at some point life moves beyond just the desire for the physical.
The scene, comical in nature, is very counter to one of the emotional low points in the film involving Terissa Kelton as Kelly-the-ex and Christian's character Nick. Terissa did an excellent job of playing a woman on the emotional edge and then slowly sliding off.
I can't say enough about this cast. Through the turmoil of changing personnel, locations and crew, they're remained steadfast and professional. Their talent humbles me at every level. Our crew as well has been nothing short of fantastic. Veterans of Twitchy flix past have welcomed newcomers in and they've done nothing but adapt to the changing landscape that accompanies all indie films with smiles, jokes and above all, a great work ethic.
We have ten days left and each one will be very challenging. But I feel very good about who I'm going into battle with.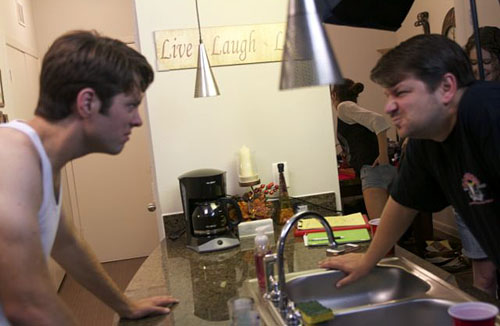 [Photo credit: "Sarah England and Christian Swacker" and "James Christopher and Christian Swacker" by Andrew Twenter. Used with permission.]