'3 References' Production Diary: Twitchy Palooza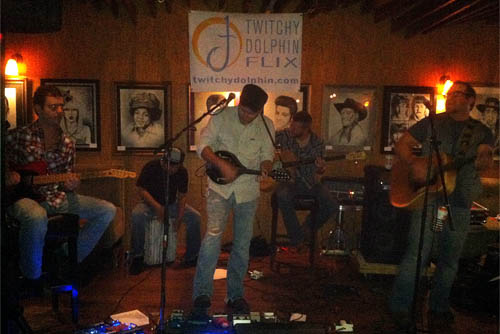 Austin filmmaker James Christopher is directing Twitchy Dolphin Flix's new movie 3 References. Check Slackerwood for his updates as the production continues.
We at Twitchy Dolphin are about to start our new feature film, 3 References. It's our eighth project since we started the company and like every project, we like to start out the new film with a bang. Shortly before production officially began, we held our third Twitchy Palooza. Twitchy Palooza is a concert event that we throw to highlight some of the artists that so generously donate their music to our flicks. The event also served as the DVD launch for the award-winning film Look At Me Again.
Folks braved the nasty rain to see some great acts. 3 References cast member Lauren Hayes made her singer-songwriter debut and wowed the crowd with her beautiful voice. Brandon Whitlan, whose music appeared in the recently premiered Turkey Day, took the mic next with a darker palate of tunes. Long time contributor Clif Haley (actor, cowriter of the musical short Phantom Tragedy) sang the theme song from Funny Books ("Bad Guys Running"), some original tunes and then blew the doors off with Def Leppard's "Pour Some Sugar on Me."
Former Plow Monday front man Jon English was up next. Jon's music served as the soundtrack for our first feature Littlefield. The title track moved the audience and he closed out the set with the classic Plow Monday hit "At You." Jon noted that the playlist was entirely created by longtime friend and Twitchy producer Jessica Bybee Dziedzic
Finally, the headliner. Texas Renegade, rocked J Black's Feel Good lounge for over an hour. This band will eventually be huge and might literally melt people's faces off. Their music has been a part of Twitchy's movies since the beginning. We've also done several videos for them, all of them doing well, going viral. "Crazy" hit number one on Y'all Wire, beating Taylor Swift! Back to the show: They played many of the tunes that have smattered Twitchy's flicks including "Good At Goodbye," "Better Than Being Alone" and "Angel In The Moonlight" while the audience sang along.
While the bands played, actors from 3 References met with the guests, signed posters and talked about the movie. We held the Look At Me Again DVD release party that night, celebrating the film's festival run (12 fests, over 20 awards).
We can't thank the bands and the fans and the cast and crews enough. We couldn't do it without them and they give us the energy to keep going. So, now, with only the slightest amount of a hangover, we prepare for Day One of 3 References.
[Photo credit: "Texas Renegade" courtesy of James Christopher.]