'3 References' Production Diary: Days 1-3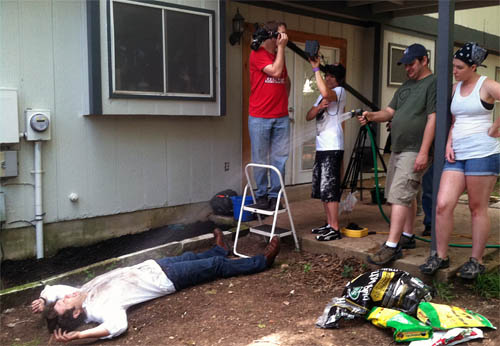 James Christopher is directing the new Twitchy Dolphin Flix film 3 References. Check Slackerwood for his updates as the shooting continues.
Shooting an indie film on a micro budget is like no other challenge out there. In movies with large budgets, if a problem arises, you simply toss some money on it. On a micro-budget set, if something goes wrong, you need to think your way out of it. It's part of the challenge, part of the fun and a big reason why you need to have a team of cast and crew you can rely on. As Twitchy Dolphin enters its "Troy Aikman" film (our eighth one, see what we did there?) we certainly have those things in spades.
3 References follows Nick (Christian Swacker), a man who treats women like disposable objects until he meets Michelle (Harper Graham). But Michelle is wary of his sordid past and forces him to confront three women that he treated like crap and earn three letters of recommendation. (Three references, get it?) To complicate matters, Nick's ex Kelly (Terissa Kelton) reenters his life and creates all kinds of turmoil.
That first weekend saw us shooting all over Austin, Texas. We started in Buda where we had to shoot a big poolside party scene. While it's disconcerting to see your 7D camera dangling by a jib over a pool, the shot was so worth it as we saw a great awkward scene of a daughter mortified at watching her father (Billy Kring) hit on a much younger, incredibly ... endowed woman (Margaret Ann Garza).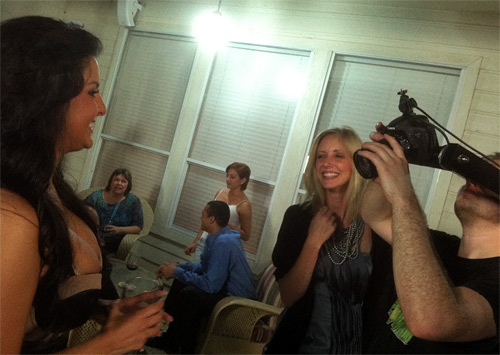 A crew lunch at the Salt Lick started the next shoot day. David, a representative from online distributor HitFlics.com, and Carlo Rodriguez of underdogs.com were in town and we had to treat them right. After a hearty meal, we went in the opposite direction and ended up on a horse ranch at Spicewood Springs and 360. There we shot our scenes with Puddles the horse. Puddles and Harper Graham made a great team. Something about getting to shoot an animal that large and yet that gentle was incredibly moving. I kind of want to do a Western now. We found ourselves just shooting hours of Puddles footage.
We finished up with the weekend with one of our more challenging set pieces. Nick is duped into building a flower bed for one of his exes (played by Ariane Powell). Every setup was meticulous as we had to make sure we got everything right the first time. There was really no going back once we changed the set. Continuity was at a premium so we were forced to move pretty slowly. We got the shots, however. It was a true testament to our cast and crew as all were super prepared.
Weekend one was in the books. it's a little bit of a bummer that, on the micro level, you just can't shoot straight through for 15 days and be done. Part of the onus is on the production staff to make sure that we get the train moving all over again the following week.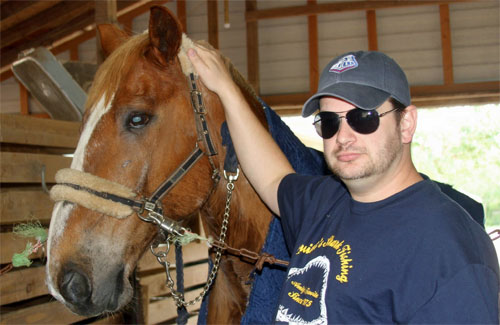 [Photo credit: Christian Swacker, cinematographer Chris Copple, assistant camera Lee James, director James Christopher and Ariane Powell" and "Margaret Ann Garza, Harper Graham, cinematographer Chris Copple and others" by Twitchy Dolphin. "Director James Christopher with Puddles" by Carlo Rodriguez. All photos courtesy of Twitchy Dolphin Flix.]