Bruce Campbell Interview: The Outtakes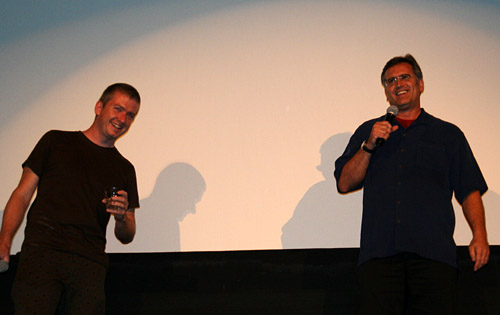 As I may have mentioned in passing, Alamo hosted some screenings of the film My Name is Bruce, which Bruce Campbell stars in and directed, late last month. Campbell attended the screenings and did some Q&As (as you can see in the above photo). I tried like crazy to find out if I could get an interview with Campbell for Cinematical, ultimately gave up, and then the night before, found out I would be able to interview him. I felt like I'd been given an early birthday present from the universe.
Cinematical published the interview last night -- you can read it here. It's not a short interview, but I hit a point where I simply could not cut one more line, because everything left was so interesting. (Thankfully, my editors agreed with that assessment.) Nonetheless, some good portions of the interview didn't make it into my final cut because they didn't work well with the general flow of the piece. I've posted those snippets after the jump for your reading pleasure, along with my favorite photo of Campbell taken during the Austin Q&A.
I'm very satisfied with the interview because it wasn't terribly fanboy-ish. I feel like I talked more with Campbell the filmmaker than with the guy who played Ash and Elvis, if you know what I mean. This may mean that I aimed for the wrong audience for the piece, but whatthehell. He's thoughtful about low-budget filmmaking and distribution while still using words like "dealio" and "blasteroo," so maybe there's something for everyone.
I also reviewed My Name is Bruce for Cinematical -- currently I'm the only critic giving the film a "fresh" rating on Rotten Tomatoes, but I hope that'll change as the movie progresses on its road tour around the country. My husband and I had a good time watching it, and I think it's best seen with as large and enthusiastic an audience as possible.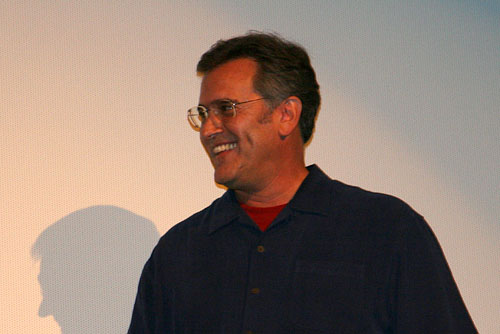 On screening My Name is Bruce at Alamo Drafthouse and other small theaters:
Bruce Campbell: Tim [League] is great. He's one of these entrepreneurs that filmmakers like me need -- we need guys like that, no one else will show our stuff.
JK: You started the tour for this film in Austin, is there a reason?
BC: Just because it's Austin, because the screenings I've been to here have been some of the best ones I've been to. So why not start it where at least you've got a fighting chance? I'm not getting booed out of the place. And you know, I like supporting theaters that support what I do -- we're scratching each other's backs here. I'm happy to show it at places like this (Alamo). And after this, it'll mostly be at Landmark theaters.
JK: I noticed the Dobie here is going to show it later this month [fyi: starting Nov. 21].
BC: It's a great chain, I love Landmark. I feel they're a good fit, they show alternative cinema. They've got a multiplex -- I think it's the E Street Cinema in Washington D.C. -- eight screens and there's not a Die Hard on any one of them.
I always feel encouraged about the film business after I tour, that's why I do it. You run across these funky theaters that are owned by young couples, they're ripping the old carpeting up and putting their money and sweat equity into fixing sound systems and being inventive like these guys [Alamo] are. They're really inventive here, coming up with events and you can rent the theater and they take the shows on the road -- I don't know how he [Tim League] does it.
On the tour itself:
JK: This is the curse about Austin being the first stop on your tour, because I can't ask you how it's been going.
BC: Yeah, I understand. It's all new.
JK: What are you looking forward to on this tour, other than getting audience reactions?
BC: Getting out of Miami for awhile. Seeing mountains and trees and rivers and lakes and cities. Miami's good to work there, but y'know -- I'm an Oregon guy, I need to get out of there every so often. So it's good to see some new territory. I like road trips too, I always have.
JK: Y'all are doing this by car?
BC: Yep. Driving everywhere.
JK: Have you seen much of Austin yet?
BC: I've been here before, so I've spent some time here. But now -- this is the horror of touring. "Hey, how'd you like our city?" "Well, I got in, it was just getting dark, and I went to a show, and then I had to leave at 8 the next morning so ... I love your city!" And that's the downside.
On shooting MNIB in Oregon:
JK: You guys were able to shoot this movie in, what? Less than a month?
BC: Twenty-three days. Yeah. HD. On my property.
JK: You hardly had to leave home.
BC: It's the first time in 10 years I could make a movie and sleep in my own bed. That was weird. I could call "Cut!" and wrap for the day, and literally walk about 50 feet and fall into my bed. It was awesome.
JK: Sounds great.
BC: And now I have a Western town on my property. I don't know what to do with it -- what do you do with that? I'm not going to take it down.
JK: You may need to make a sequel, just to use it again.
BC: Yeah --
On the distribution plan for My Name is Bruce:
JK: If someone's in a city that's not on the tour, how do they get to see this movie?
BC: It's kind of a drag. That's the nightmare of low-budget, you can't do the 2,000 theater blasteroo. You have to chip away and get the word out verrry slowly and organically and hope it spreads like a virus.
Mostly it's promotion for the Blu-Ray, which is coming out in February. Well, that's probably the marketing guys' reason, but for me it's more grassroots. It's like -- are people showing up, do they respond, what do they not respond to -- it's all learning. Any time you're put in front of an audience with your own movie, you're going to take a lot of notes and learn a lot of lessons, for sure.