Actors Remember Houston Theatre Professor Cecil J. Pickett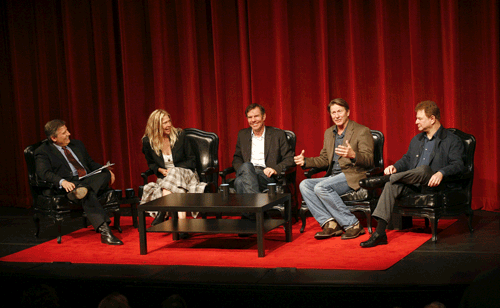 By Viral Bhakta
On April 14, the University of Houston (UH) School of Theatre & Dance celebrated the career of professor Cecil J. Pickett through the eyes of his talented and well-known students Brett Cullen, Cindy Pickett, Dennis Quaid and Robert Wuhl.
The event "An Afternoon with the Artists," moderated by Houston PBS's Ernie Manouse, was a question-and-answer session that highlighted their time at UH and how their mentor, Cecil Pickett, influenced their lives and careers. The event benefitted the Cecil J. Pickett Scholarship Endowment Fund for students attending and aspiring to attend the School of Theatre & Dance.
Cecil J. Pickett was born in Ryan, Oklahoma and taught acting and directing at the University of Houston from 1970 to 1988. "Cecil's life was focused on training young artists for the profession. He touched hundreds of lives and produced many prolific actors," Manouse noted. During Pickett's time at UH, he directed a significant number of departmental productions and served as a director for the Houston Shakespeare Festival, a professional project established by the University of Houston. Pickett died in 1997.
For the four actors on the panel, one topic that helped stir up past memories was describing Pickett's experience as a teacher and director.
Brett Cullen recalled that when he first arrived at the University of Houston, he had hair down all the way to his waist, was a surfer dude and wasn't known as a serious actor. I could relate, freshmen, right? As a teacher he remembered that Pickett stressed literature. Cullen quoted Pickett as saying that "All good work comes from literature."
"He taught me about myself. He made me examine myself. He also made me read more than I've ever read in my life; I took almost every English course at the University because he made me," Cullen said.
The one thing that he admired about Pickett was that "he gave them (students) a reality vision of what the world they were getting ready to walk into was like." Cullen remembered on his first day of acting class reading a book that taught them about guilds such as SAG and AFTFA, in addition to facts such as actors equity and average salary of the top 15 percent of guild members.
"The reputation of the theater department really was based on Cecil Pickett," Cullen said, "He set the standard. He was the man people came here to study with."
It was refreshing to hear that Pickett taught the realities of the industry; nowadays it should be a must in any college curriculum, especially in the film industry. The classroom is where you ripen, and the real world is where you blossom.
Dennis Quaid remembered that Pickett gave tons of constructive criticism rather than tearing an individual down. Initially, Quaid wanted to become a veterinarian but changed after his first week in Pickett's class at Bellaire High School ... which became the reason why he wanted to become an actor.
"He made us all fascinated by what it was like to actually experience someone else's life," Quaid said. "He directed in a way that he knew where focus was supposed to be at all times." It helping him realize that "technique is something that you learn, then forgot, and eventually it just becomes a part of you."
"Anyone taught under Pickett had the tools to work with the best directors, bad directors, mediocre directors and directors that didn't even know how to direct themselves," added Quaid. "He helped them understand how to create a character that was honest and that could come to life."
Robert Wuhl was a student at the University of Houston for seven years. He didn't start as a drama major but under the guidance of Pickett, he was taught the strong craft of theatre. He learned what Pickett called "what makes the unskilled eye laugh, makes the skilled eye cry."
When asked about Pickett's directing skills, Wuhl responded, "I can't answer that question because he was smart enough not to cast me." I personally thought that was hilarious and luckily the audience did too. Pickett also allowed Wuhl to write the music for the Houston Shakespeare Festival.
Cindy Pickett, Cecil Pickett's daughter, had the opportunity to observe her father's work at a very young age by attending various departmental productions and having front-row seats to the Houston Shakespeare Festival. Though that didn't make things easier for her -- if anything she had it even harder. She was expected to do her homework before coming to the classroom and memorize significant amount of dialogue every day. During every play, she realized that her father kept the background as important as the character throughout the play and as Quaid quoted, "kept focus where it needed to be."
A student asked, "Was there anything that you wished you would have learned in the beginning of your careers as actors?" Cullen advised them, "Learn to write. That's one thing I wish I would have done early in my career."
Thank you, Cecil Pickett for providing your students with strong criticism and guidance that inspired them to excel as actors. You left a valuable and irreplaceable mark on the University of Houston but more importantly your students.