Film on Tap: American Craft Beer Week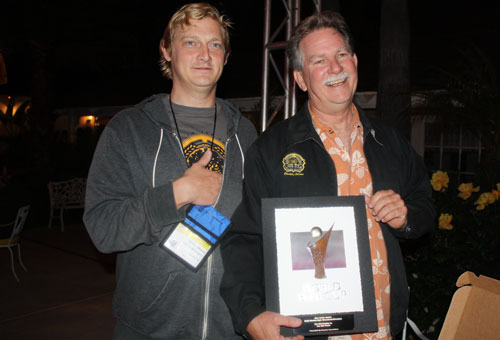 Film on Tap is a column about the many ways that beer (or sometimes booze) and cinema intersect in Austin.
The Brewers Association, a national non-profit organization that functions on behalf of the majority of today's U.S. breweries, has designated one week each May as American Craft Beer Week, otherwise known as "The Mother of All Beer Weeks". This year's events will run from May 14 - 20, with several craft beer and film-related events around Austin for enthusiasts to enjoy.
This year is of extra significance to several Texas brewers thanks to recent wins in the 2012 World Beer Cup, including local breweries Hops & Grain, Live Oak Brewing -- Chris Cherry and founder Chip McElroy pictured above with their award -- and three medals for Saint Arnold Brewing Company of Houston. The World Beer Cup took place in San Diego, California, during the Craft Brewers Conference where Austin Beerworks took home first place in the Canny Awards "Best Use of Color" category for their Pearl-Snap Pils.
In celebration of American Craft Beer Week, Flix Brewhouse is featuring a "Buy the Beer, Keep the Glass" every day of the week, culminating with a very special unveiling of a new beer on Sunday, May 20. Personally I have more than enough enough glassware -- and overstocked beer fridges-- to open my own craft beer bar, but I love the idea of owning beer glasses labeled "Lupulus" (an American IPA) and its Belgian cousin "Dupulus", a Belgian Double IPA made with Pilsner malt and a touch of rye. As always, Flix will have "Made in Texas Monday" with all Texas pints only $3, and "Pick Your Pint Tuesdays" with $3 for any pint. Sounds like a great week to finally see Hunger Games at Flix now that I've finished reading the trilogy.
Find out about more American Craft Beer Week happenings with award-winning brewers as well as upcoming events around town after the jump.
As mentioned in a previous Film on Tap post, several local breweries and brewpubs including North by Northwest Restaurant & Brewery (NXNW) will be featured in an upcoming craft beer documentary, Crafting a Nation. On Wednesday, May 16, NXNW is hosting a special free screening of the craft beer-related documentary Beer Culture, from the filmmaking team behind Crafting a Nation. The evening kicks off at 7 pm with beer and beer film trivia followed by the screening. Here's a hint for trivia quiz junkies -- yours truly is the quizmaster, so be sure to brush up on past Film on Tap columns.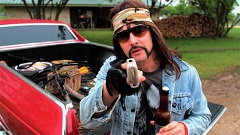 NXNW also teams up with Austin Film Society (AFS) on Thursday, May 17, to sponsor an encore presentation of the AFS SXSW Community ShortCase screening at Austin Studios. Join the AFS filmmakers for a showing and discussion about their works. You can also enjoy a tour of Austin Studios as well as the NXNW/Red's Porch Beerliner, the coolest mobile screening room ever. The first screening of the program will be held at 7 pm in the AFS Screening Room, with a second screening after sunset outside on the Beerliner video screen -- campchairs are highly encouraged. Meet the brewers and enjoy complimentary local beer provided by NXNW, Austin Beerworks and Live Oak Brewing. Tickets are available through the AFS website here.
In other local short film screening news where you can enjoy some adult beverages, Short Indies will host their next screening on June 11 at the ND at 501 Studios. Emerging filmmakers screen their shorts followed by Q&As onstage after each film. The screenings also feature short intermissions between each film to mingle and chat while enjoying drinks from the bar. Stay tuned to Short Indies website for more updates.
Although my Film on Tap column is often beer-centric due to the growing craft beer industry in Central Texas, there is a wonderful film-and-wine event next month. The Austin Classical Guitar Society, Alamo Drafthouse Cinema Rolling Roadshow and AMOA-Arthouse have collaborated to bring a very special Rolling Roadshow screening of the 1927 silent film The Unknown to Laguna Gloria on Friday, June 22. The Unknown is a macabre classic masterpiece, tarring Lon Chaney, Sr. as a circus knife thrower and Joan Crawford, as the circus owner's daughter.
This event features a new musical score composed and performed by the highly inventive European guitar duo, Les Frères Méduses (the Jellyfish Brothers), and Sandy Yamamoto, immediate past member of the Miró Quartet, on violin. Executive Chef John Bullington is creating special appetizers and dinners for the event to be paired with wines selected by Beverage Director Bill Norris, including a white and red selection of Palagetto Vernaccia di San Gimignano 2010 and La Bella Vita Frappato.
A final Slackery Booze Tidbit as I like to call it -- the newest brewery on the scene with beer only available for less than six weeks, Rogness Brewing, is already featured as a Bad-ass Tap at the Alamo Drafthouse South Lamar with their slightly peaty Rook Scotch Ale.
[Photo credit: "Chris Cherry and Chip McElroy of Live Oak Brewing Win at the World Beer Cup", by Debbie Cerda, for use with attribution, Hot Dogs and Hand Grenades still photo.]
[Full disclosure: Debbie is currently employed part-time by NXNW Restaurant & Brewery, and supports as many local breweries and brewpubs as her liver allows.]