Robert Rodriguez Shares His 'El Rey' Network Ideas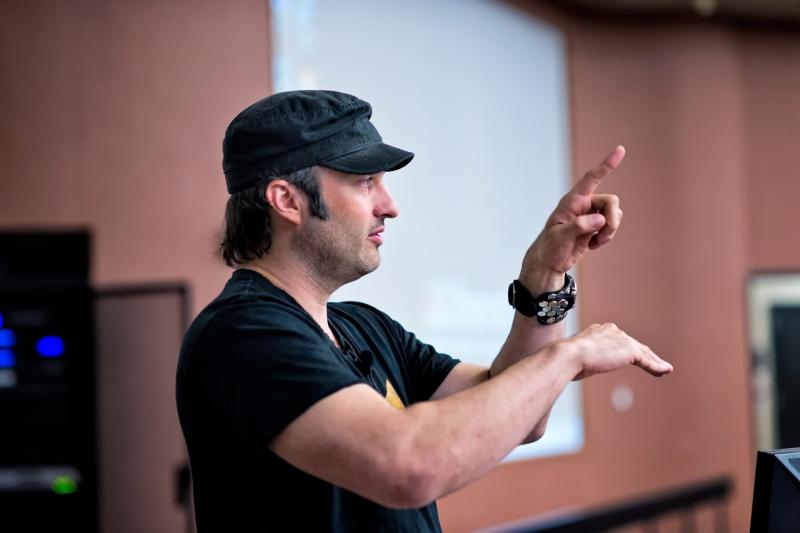 In recent months, the news has included a constant stream of Robert Rodriguez stories, with his animation studios opening one week, winning an entrepreneurship award in another week, El Mariachi being inducted into the National Film Registry late last year, Machete Kills casting announcements almost daily in prep for shooting this summer, then Sin City 2 following that, then a Heavy Metal remake and the list doesn't end until early 2014 when his new television network, El Rey, will premiere on Comcast.
But amid his busy schedule, the Troublemaker Studios co-founder was able to set aside 90 minutes of his time to talk to the next generation of innovators, like he himself was back in the early 90s and still is today. The University of Texas at Austin hosted a conversation with Rodriguez and UT Radio-TV-Film Professor Charles Ramirez-Berg, "The Future of Latino Images in Film and Media," on May 2.
Words of wisdom that were instilled in a young Rodriguez were that "Sometimes you're not the one to win the race, but the one who sets the pace." During his presentation, Rodriguez pointed out some notable points in his career that molded some current trends in Hollywood. First Rodriguez made El Mariachi on a shoestring budget and now it has a quality distributors look for. Rodriguez was one of the first to begin shooting digitally instead of using film. Now, film's on its way out and digital is all over the place. Finally, Spy Kids 3 was the first film shot in 3D in a long time and now just about every film has its 3D counterpart. As he's now embarking on crafting the first stages of El Rey, Rodriguez feels that the channel will provide the similar pathway that other TV studios will follow in the coming years.
When the channel finally appears on Comcast, the programming will be for Latinos, but Rodriguez wants it to be accessible by anyone. "When someone asks you who you are, you say 'El Rey' and people will know it and feel like they belong to something."
At this moment, the channel is completely open for fresh ideas on content. One idea that Rodriguez briefly spoke about was El Mariachi Theater, a contest show where filmmakers would be given a small amount of money to create a film, then another grant to take care of a different aspect of the film, and so on until the film is complete. In the last stage of the show, the best film would then be given a Hollywood remake, like Rodriguez had with Desperado.
The Austin filmmaker went on to discuss a few further details about the network. Rather than having a news show or something you can find on another network, the idea intent is to have completely original content. Music elements will certainly be strung throughout the channel as well as documentary and narrative-based shows. One point that would be incredibly helpful for those who have work on El Rey is that Rodriguez mentioned that they'd want to have the content that shows on El Rey to be owned by the content creator at the end of the day. The channel's content will aim at breaking stereotypes and will shed light on different point of views.
Rodriguez gave a few final tips to students who are just emerging out of college and getting out into the real world. If you aim low, you'll hit low. If you aim high, you might just hit high. During his career, Rodriguez has aimed high and although he may have missed the mark here or there, he still was able to accomplish new things and bring about changes to the game. Don't wait for things to come to you.
"Just start moving and things will happen."
[Photo credit: "Robert Rodriguez" by Charles Ramirez-Berg, used with permission.]