Review: My Way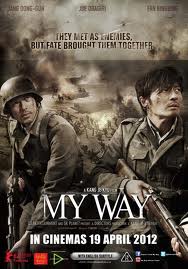 World War II, fought on multiple continents with multiple armies, has an untold number of unique stories. One story revolves around an Asian soldier captured by the Americans during the Normandy invasion. In My Way (Mai wei), filmmaker Je-kyu Kang shows us how this man found himself taken from Korea to ultimately become a conscripted soldier in the German Wehrmacht.
The movie begins with color commentary of the 1948 Summer Olympics in London. The announcer is highlighting the movement of a Korean runner named Jun-shik Kim (Dong-gun Jang). Jun-shik Kim is steadily moving up the field of runners.
Quickly the story flashes back to Japanese-occupied Korea. A Japanese doctor and his family have moved to Korea to serve under the doctor's father, a colonel in the Japanese Imperial Army. This family has a young son, Tatsuo Hasagawa, who spies another young boy running alongside their car. This boy is Jun-shik Kim, who quickly becomes fast friends with Tatsuo ... and also rivals. Via their shared love of running, the boys are commonly found in competition with one another.
The film takes a sudden turn when Tatsuo's grandfather is assassinated and Jun-shik's family is blamed, causing the family to fall into poverty and despair. Jun-shik is forced to make a living as a rickshaw driver. Never letting things get him down, Jun-shik uses his job as a means to improve his running ability.
After depicting Jun-shik's continued training, My Way moves to the Korean Olympic trials. The Japanese took insult when a Korean runner won an earlier Olympic event and have banned all Koreans from representing their country. Ultimately, under pressure from a former Olympian, the occupiers are pressured into allowing Jun-shik's participation. Jun-shik wins the event, is denied his prize and a riot breaks out. As punishment, the Korean rioters are conscripted into the Japanese Imperial Army.
This conscription soon leads Jun-shik to be under the command of Tatsuo (Jo Odagiri). Over a period of years, Jun-shik and Tatsuo find themselves in battle with the Soviet army, forced to work in a Gulag, conscripted into the Soviet Army and finally conscripted into the German Wehrmacht.
My Way is directed by Je-kyu Kang, who co-wrote the script with Byung-in Kim. The filmmaker provides an unsettling feeling of dread throughout this movie. At every step we feel oppression: the subjugation of Korea at the hands of the Japanese, the cruelty of Soviet taskmasters, and especially the folly and horrors of war. Throughout the film, we find shining lights of humanity, strength of spirit, and deep-seated concern for your brothers. Jun-shik and Tatsuo never lose their will to live.
My Way possesses some of the best battle footage every created for the big screen. The war footage created by this team of filmmakers rivals and in many ways surpasses the war footage created in Saving Private Ryan. We see up close the fear, confusion, mayhem and ultimate brutality of war. Many times the viewer can feel firsthand how traumatic these events can be on the human psyche.
Much like another of Je-kyu Kang's films, Tae Guk Gi, My Way is the story of brotherhood. In it we learn that love for your fellow man conquers even the blackest of hearts.