Austin Studios Expansion Planning Update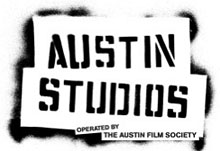 For three years, Austin Film Society has been planning to expand Austin Studios to include the adjacent National Guard Armory. You may have seen our posts or heard us talk about how great it will be, because in addition to more filming space, we'll have scalable offices for producing, post-production, classrooms and anything else related to creative media production. It will be a beehive of artists supporting themselves and each other.
In 2006, AFS received $5 million in bond funds and it has paid off. Since we completed renovations in 2009, Austin Studios has brought $290 million into the local economy. You may have caught the news that ABC Family's The Lying Game has been renewed for a second season. That show alone will pour an amazing $16 million into Austin's economy over just a few months! The equation is simple: The more capital improvements we can make at the outset, the better the space will function and the cheaper the rent will be.
In 2009, AFS commissioned a detailed facilities assessment of the National Guard building, which revealed the need for the $6.1 million in repairs and improvements. In 2010, AFS held two Town Hall meetings for the film community and a videogame leaders roundtable. The purpose was to identify priorities for the space, which emerged as:
Affordable, scalable space
Privacy combined with easy access to communal space
Meeting space
Technology infrastructure including top-tier internet, electric, and server rooms
24-hour heating, ventilation and cooling
24-hour security
Healthy dining facilities
Audio recording facilities
In 2011, we worked with our architects and project planners to prioritize a $16 million wish list into the top items needed to make Austin Studios viable as a business. We narrowed down the list to $12.5 million, of which $9.5 million would be included in the 2012 bond election and $3 million would be raised by AFS for a new Exhibition & Visitor Center.
The Armory is a wonderful addition, but it's 50 years old and it needs fixing up, including a new roof, plumbing, air conditioning and wheelchair accessibility. We're asking the City of Austin to include Austin Studios in the 2012 bond package for $7.5 million ($6.1 million for the National Guard building and $1.4 million for things the rest of the campus needs like a bigger water line and a security fence).
We then began to attend Bond Election Advisory Task Force meetings and ask the task force to consider AFS. Eventually, the Facilities Committee included Austin Studios in their consideration, and they did recommend to the full task force that Austin Studios be considered in the "community-based projects" category.

That brings us to this week, when it is time to start showing them that there is a broad range of support for Austin Studios' expansion! You can take immediate action to have a significant, direct impact on making this dream a reality. Whether you expect to be a tenant when Austin Studios expands, or whether you want to support the film industry and artists, please weigh in.

Tell the Bond Election Advisory Task Force that you support including Austin Studios in the bond at one of the upcoming Community Forums:
Wednesday, May 2 at Akins High School at 6:30 pm
Thursday, May 3 at Lanier High School at 6:30 pm
Look for an AFS representative (in a staff t-shirt) to receive a free Austin Studios t-shirt!
The format of the Community Forums is:
Presentation made to full group on current recommendation.
Breakout by committee so citizens can discuss specific line items with task force members. Austin Studios is being handled by the Facilities Committee.
Full group gathers again to receive a report.
What a journey this has been so far! If you aren't able to make a Community Forum this week but would like to be involved, email Austin Studios at operations [at] austinfilm [dot] org and we'll keep you in the loop going forward.
Some background information on the bond process and Austin Studios: